Fayose Hails Jonathan's Appointment As Leader Of Tanzania's Commonwealth Election Observers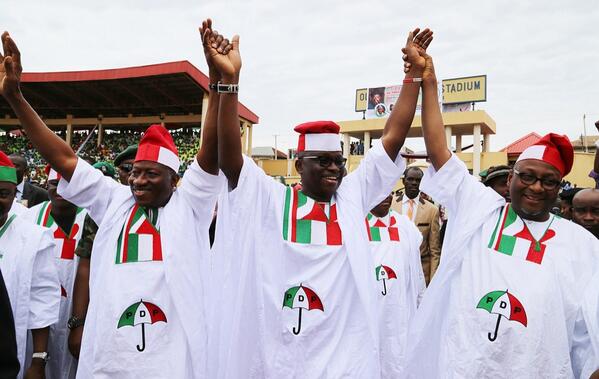 Ekiti State Governor, Mr Ayodele Fayose has hailed the appointment of former President, Dr Goodluck Jonathan as leader of a 33-nation
observer mission to the Sunday, October 25, 2015 General Election to be held in Tanzania, describing it as "a global recognition of the former president's democratic credentials."
He said; "Jonathan's appointment to lead the Commonwealth observer team, comprising of 33 countries is recognition of his remarkable role in the last presidential election, in which he conceded defeat, thereby saving Nigeria from catastrophe that even the international community thought would befall the country."
Speaking through his Special Assistant on Public Communications and New Media, Lere Olayinka, Governor Fayose said; "Jonathan should be celebrated and I am happy that the world is beginning to give him the deserved recognition and celebration less than five months that he
left office."
He said Dr Jonathan's courage and spirit of sportsmanship in accepting the outcome of the presidential election despite the obvious shortcomings saved the nation from political chaos and violence, adding that; "Jonathan provided the foundation on which democracy is
standing in Nigeria today and one is not surprised that he is being asked to lead the Commonwealth election observer team from 33 nations
to Tanzania.
"Even if those who benefitted from his show of love and commitment to the peace and development of Nigeria are paying him back with
persecution and victimisation, I am happy that the former President and those who worked with him are being celebrated globally.
"Today, four of those who worked with Jonathan, who were called thieves by our friends on the other side, are holding top positions in international organisations.
"Mrs. Omobola Johnson, the immediate past Minister of Communication Technology is a Honorary Chairperson of the Alliance for Affordable Internet (A4AI), a United States based global coalition; Ngozi Okonjo-Iweala, former Finance Minister now chair the Board of the Global Alliance for Vaccines and Immunisation, GAVI, as well as senior advisor to Lazard, a 167-year-old global investment firm; Mrs Arunma Oteh, former Director General of Securities and Exchange Commission (SEC) is the Treasurer and Vice President of the World Bank and Dr. Akinwumi Adesina, former Minister of Agriculture and Rural Development is President of the African Development Bank (AfDB).
"I therefore congratulate Dr Jonathan and urge those presently holding power in Abuja to emulate him by putting Nigeria and its interests first."