"It's All Buhari's Gang-up" – Ijaw Youths Against Calls Demanding Alamieyesegha To Be Extradited To UK Over Money Laundering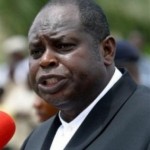 The Ijaw Youth Council (IYC), has faulted the request by the Government of the United Kingdom for the extradition of former Governor of Bayelsa State, Diepreye Alamieyeseigha, from Nigeria to the United Kingdom to face money laundering charges.
IYC in a statement on Tuesday by its spokesman, Eric Omare, said that the request was politically-motivated and influenced by the President Buhari-led Federal Government of Nigeria.
It also fingered former President Olusegun Obasanjo of having a hand in the extradition ambush on Alamieyeseigha.
IYC said that the gang up against Alamieyeseigha was based on his recent remarks on his past ordeal and his consistent opposition to the ruling All Progressives Congress (APC).
"The request is politically-motivated and instigated by the Buhari-led federal government. The government of the United Kingdom is just been used as a subterfuge.
"The real brain behind the extradition request is some key players in the Nigerian government, former President Obasanjo, who wants to punish Chief Alamieyesegha for his recent statements on his ordeal in the past and because of Chief Alamieyesegha's consistent opposition to the ruling party", it said.
IYC also condemned the chairman of Buhari's Advisory Committee on Anti-Corruption, Itse Sagay (SAN), for justifying the UK's extradition request for Alamiyeseigha by the UK government.
"It amounts to professional misconduct for Prof. Sagay who was one of Chief Alamieyeseigha's lawyers during his arrest and subsequent trial in Nigeria to now be acting as adviser to the federal government on same matter.
"Nigerians would recall that Prof. Sagay fell out with his old time friend and benefactor, Chief Gani Fawehinmi, because of the arrest of Chief Alamieyesegha in London.
"Also, when Chief James Ibori was sentenced in London, he condemned the sentence for been excessive. Now same the Prof. Sagay is singing a new song.
"We make bold to state that Prof. Sagay's conduct is not only unprofessional but he also lacks consistency and integrity.
"Prof. Sagay is nothing but a man who speaks from any side of his mouth that meets his daily bread and no useful advise can come from a committee headed by such an inconsistent character", IYC said.
The apex Ijaw youth body warned the government of UK to refuse to champion interference activities in the internal affairs of Nigeria.
"The excessive interference of the UK and United States governments in the internal affairs of Nigeria is deliberately designed to cause crisis in Nigeria.
"It would amount to double jeopardy for Chief Alamieyesegha to be extradited to the UK to face trial having been tried and convicted of the same offences in Nigeria for which the UK government is requesting his extradition.
"The Niger Delta people would no longer accept the continued persecution by the Buhari led federal government", IYC added.