Corrupt Former Police IG, Tafa Balogun Was At The Aso Rock Presidential Villa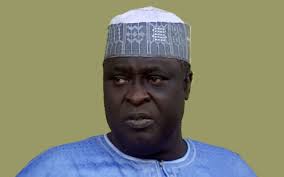 Estimated Reading Time: <1
Former Inspector-General of Police, Mr. Mustafa Tafa Balogun, made a surprise appearance at the Presidential Villa yesterday, years after he had gone underground following his unceremonious end as head of the Nigeria Police Force, reports Daily Independent.
Balogun, who was sacked and put through harrowing court trials by the Economic and Financial Crimes Commission (EFCC) over cases of official corruption and diversion of police funds, was guest of President Muhammadu Buhari at the occasion marking the 55th Independence Anniversary of Nigeria.
The former IG was invited to the Independence Anniversary alongside other top cops that had headed the Nigeria Police Force.
Balogun was Inspector-General of Nigeria's Police for three years until his arrest. He assumed headship of Nigeria Police in March 2002 and was forced to retire because of widespread charges of corruption in January 2005.
He had pleaded guilty to eight charges of corruption and sentenced to six months in prison.
He was arrested in January 2005 and spent 67 days in custody while the case against him lasted in court. He walked out of prison in early 2006.
He was accused of illegally diverting police funds put in the region of about N5.7 billion official corruption.
The pioneer Chairman of EFCC, Mallam Nuhu Ribadu, had explained that Balogun crossed the line and had to face trial for corruption.
Sentencing Balogun, Justice Binta Nyako had noted that he was a first offender and his demeanour in court reflected him as having shown remorse.
He was also ordered to pay a fine of N4 million ($30,000), while some $150 million worth of cash and property were seized by government.