Watch The Trailer Of "Beasts of No Nation" An Adaptation Of Uzodinma Iweala's Novel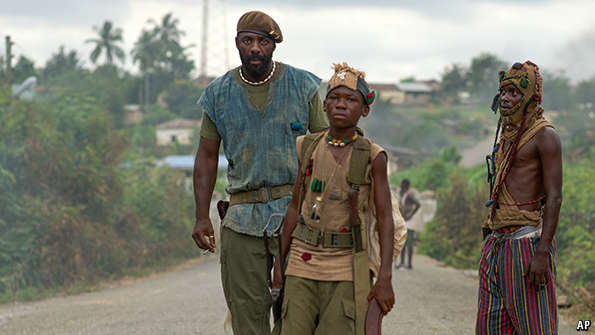 Estimated Reading Time: <1
When civil war tears his family apart, a young West African boy is forced to join a unit of mercenary fighters and transform into a child soldier.
In March, Netflix announced that it would be offering "Beasts of No Nation" online to its subscribers on the very day (October 16th) that the film was going into cinemas.
The story gets more complicated when you see the film itself. To put it mildly, "Beasts of No Nation" is quite something. Adapted from Uzodinma Iweala's novel, it is an immersive fable about a boy in an unnamed African country whose family is executed in front of him during a civil war. Fleeing into the jungle, he is adopted by a charismatic commandant (Idris Elba), and brainwashed into becoming a guerrilla fighter. There are times when he enjoys the summer-camp cameraderie he shares with his fellow child-soldiers. But he also has to machete innocent strangers, submit to sexual abuse and drug use, and watch while his new friends are gunned down. The horrors of war have rarely been catalogued more horrifically.