Buhari Tells Saraki To Go And Defend Himself At The Code Of Conduct Tribunal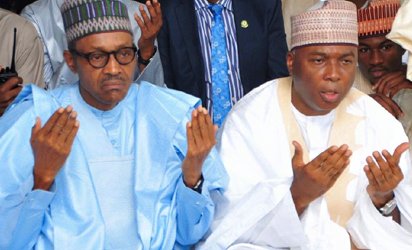 Estimated Reading Time: <1
President Muhammadu Buhari has dissociated himself from the current travails of Senate President Bukola Saraki in the hands of the Code of Conduct Bureau (CCB) and the Code of Conduct Tribunal (CCT) over a 13-count criminal charge preferred against Saraki on account of alleged false declaration of assets, saying the courts have a duty to perform.
It says that it will not tolerate claims linking President Buhari to the matter, the presidency added that the speculation that CCB and CCT only act on external influence was unfounded.
A statement by the Senior Special Assistant to the President on Media and Publicity, Mallam Garba Shehu said: "There is no place in law that the Bureau and the tribunal should take instructions from any quarters."
According to him, "as an independent institution equal to any superior court of record, the tribunal is set up by the constitution to determine the issue of default, false declaration or forgery in assets declaration."
Shehu said that the matter was purely a judicial process and had nothing to do with the presidency. He advised the affected parties to also use the courts to acquit themselves of the allegations.
According to Shehu, the president cannot interfere with the judicial process by stopping the Judge. He reiterated President Buhari's avowed commitment to the fight against corruption no matter whose ox is gored, saying that the President has sworn to protect the constitution.
"If anyone has an axe to grind with what they are doing, they should do it in a judicial manner by challenging those actions in a proper court of law. Let them hire a good team of lawyers to prove their innocence.
"Government has no desire to persecute anybody. The President has vowed to respect the rule of law and this is what he is doing by staying out of this matter. He has said times without number that the war against corruption has no sacred cows. Even if the President wants to help, there is no way he can do anything. Is he going to ask the judge to stop the trial?
"It is purely a judicial process, the type of which are routinely dealt with by the CCB and the CCT. There are many cases like this that are going on. The President has sworn to an oath to protect the constitution and will not violate that oath", Shehu said.