Appeal Court Rejects Senate President Saraki's Appeal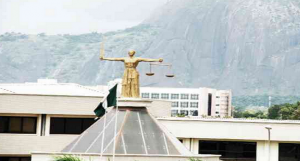 Estimated Reading Time: <1
The Court of Appeal in Abuja has struck out the application filed by the Senate President, Senator Bukola Saraki, seeking to set aside the order for his arrest issued by the Code Of Conduct Tribunal.
Delivering a ruling after hearing the arguments by Senator Saraki's counsel, Mr Adebayo Adelodun, SAN, Justice Morrie Adumein said that it is not in the habit of the court to interfere in the ?proceeding of a lower court when the other parties have not been heard.
Justice Adumein then rejected the application, saying that it would be better to serve the interest of justice by putting the respondents on notice.
The motion on notice has been adjourned to Tuesday, September 29, 2015 for proof of service and hearing.