Governor Aregbesola Says Those Who Killed Bola Ige Want To Destabilise Osun State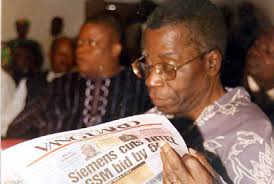 Estimated Reading Time: <1
Governor Rauf Aregbesola of Osun State, on Thursday, alleged that the suspected killers of the former Attorney General and Minister for justice, Chief Bola Ige, were the same set of people who have tried effortlessly to destabilise the state.
According to Tribune Newspaper, the governor  who made this allegation while opening the Bola Ige Mechatronic Institute, at Osun State College of Technology, Esa-Oke.
Aregbesola noted that the Bola Ige Mechatronic Institute, is a dream come true with the equipment alone costing N875 million and a befitting legacy in honour of Chief Ige, who he described as a leader, national icon and a citizen of the world.
While regretting that though, Ige was brutally murdered by those who thought they could silence him, the governor said his spirit had been restless and has been tormenting his killers who have been sinking deeper in what he termed "the quagmire of infamy."
Aregbesola, who emphasised that the institute is the first of its kind in Africa, maintained that the state's vision for the institute began with the need to empower youths and equip artisans with the requisite skills to be relevant in an increasingly digital world.
According to him: "The spirit of Ige will not sleep until the killers are brought to book. These are the same individuals that have fruitlessly attempted to plunge the state into chaos and bring about a change of government through conspiracy and subterfuge in the recent past. While the killers drink from the cup of shame, we shall continue to honour the memory of Ige as he is ensconced in the pantheons of departed Yoruba leaders".
Aregbesola stressed that the newly inaugurated institute will be training on-the-street mechanics from garages and candidates from automobile companies.
He noted that the institute will also admit holders of Ordinary National Diploma and technical college graduates for skills acquisition and industrial trainings.
Speaking earlier, the former Special Adviser to Governor Aregbesola on Federal Matters, Ms Idiat Babalola, stressed that the diagnostic centre was designed to create employment for the youth and generate revenue internally for the state.
Babalola, who noted that Osun received the biggest support on the project from the National Automotive Design and Development Council, under the auspices of the Federal Ministry of Trade and Industry which got the Bank of Industry to finance it through First Bank of Nigeria said "it is interesting to note that of all the states that competed for this project, Osun got the nod, partly due to the due diligence done on our proposal that confirmed our good credit rating".