One Week After The Deputy Governor's Demise, Borno Politicians Battle To Succeed The Deceased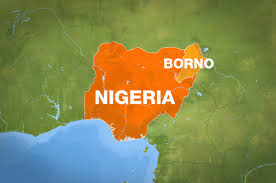 One week after the Borno State Deputy Governor, Alhaji Zannah Umar Mustapha, died in his sleep at Hometel Hotel in Yola, the Adamawa state capital, his death has now opened a space for a hot political race among southern Borno politicians over who succeeds him.
Daily Trust on Sunday gathered that no sooner had the third-day prayer held at late Mustapha's official residence in Maiduguri, than the politicians began mentioning names of Alhaji Adamu Yuguda Dibal, Alhaji Usman Mamman Durkwa, Barrister Yakubu Bukar and Alhaji Abdu Usman as possible replacement for the deceased.
Others being touted are Barrister Isa Audu Buratai, Alhaji Ibrahim Audu Miringa, Rep Mnkhtari Betera, Alhaji Umar Kadafur, Dr. Habu Mohammed and Aliyu Mamman Kachalla.
Among these candidates, who are believed to be powerful politicians from where the late Borno State Deputy Governor comes from, three of them are considered as top political warriors, who could wrestle one another to get the seat of the second citizen.
But our correspondent reports that four politicians whose names have been on the lips of politically- minded people in Borno state, especially from the southern part of the state, are Alhaji Dibal, a former Deputy Governor; Alhaji Mamman Durkwa, a former State Commissioner several times; Barrister Bukar, the incumbent State Head of Service and Alhaji Usman, a retired State Permanent Secretary and now Commissioner at Borno State Independent Electoral Commission (BOSIEC).
Dibal, a two-term former Deputy Governor under the former governor Ali Modu Sheriff from 2003 to 2011, is said to have tactically created and nurtured a good relationship with the incumbent Governor Kashim Shettima.
Dibal, after the completion of a second term in May, 2011, disappeared from the public view. But a couple of months before the 2015 general elections, he resurfaced and actively participated in the promotion of the second term bid of Governor Shettima. So, Dibal may likely return to his former office under another governor.
Durkwa, the immediate past Commissioner for Poverty Alleviation, has been seen as the most qualified candidate who can easily wear the big shoe left by late Mustapha. He has been aspiring for the post of the Deputy Governor since 2003.
Being a constant member of the ruling party in Borno state, Durkwa has always been gathering political momentum. Whenever he attends occasions such as the wedding, naming, burial events, he easily attracts the youth and sometimes the elderly ones who usually chant, "Sai Durkwa". Durkwa always enjoys massive turnout of supporters whenever he is invited to public events compared to his political rivals in the APC who are on the same political status with him.
Daily Trust on Sunday recalled that governor Shettima had to strike a deal between him and the late Deputy Governor during the 2015 campaign period as the people usually chant "Sai Durkwa" instead of late Mustapha at public events in either southern Borno or Maiduguri.
Analysts describe Dukwa as a seasoned politician who could have been a running mate to the governor during the 2015 governorship election. He stepped down for the late Mustapha in the interest of the APC.
Sources in Maiduguri told Daily Trust on Sunday that if not for the intervention of Governor Shettima and other powerful politicians who persuaded Durkwa to step down for late Mustapha, he would have become the Deputy Governor.
Both late Mustapha and Durkwa hail from Biu Emirate District in Borno South Senatorial zone. While the late Deputy Governor is from Biu Local Government Area (LGA), Durkwa is from Hawul LGA. Since 1979, if the state governor comes from either northern or central Borno, the deputy governor comes from the south, particularly from Biu Emirate. There was an exceptional case in 1983 when Kwaya-Kusar LGA produced deputy governor.
Unlike Durkwa, Barrister Yakubu Bukar, who had a healthy relationship with late Deputy Governor Mustapha, had maintained friendship for a long time. He is also from Biu town in Biu LGA. Bukar is from the same ward with late Mustapha. Bukar, the incumbent Head of Service in the state, has been described as a technocrat who built his entire career in civil service. He rose to become a Permanent Secretary. He was later appointed as Borno State Head of Service by Governor Shettima.
Since his appointment in 2012, Bukar has inched closer to Governor Shettima. Analysts also describe Bukar as a seasoned administrator who has been playing a major role in Shettima-led government. Therefore, he is equally a sellable candidate who can become the next Borno State Deputy Governor.
Another possible candidate is a retired Permanent Secretary, Alhaji Usman, who is as eligible as Durkwa and Bukar.
Usman, while in civil service, befriended Governor Shettima in the state Ministry of Finance. He was then the Permanent Secretary, while Governor Shettima was the Commissioner for Finance under the former governor Sheriff.
As a Permanent Secretary, Usman was said to have received respect from the incumbent governor who visited him on several occasions. So, he can be considered as an eye-catching personality who can serve as Deputy Governor under Shettima whom he worked with several years ago.
Usman, as a technocrat, also rose in the civil service to retire as Permanent Secretary.
Another contender for the job of Deputy Governor is Dr Habu Mohammed, the Yerima Kida of Biu from Biu Local Government Area of the state. A holder of PhD in Conflict Management from the University of Lagos, Dr Mohammed , who is a member of the All Progressives Congress is seen as one of the most educated individuals in the community. As the Deputy Governor seems to be zoned to Biu Local Government, it is argued that his appointment would give the people a sense of belonging, considering the fact that the area has been ravaged by the activities of Boko Haram.
However, another school of thought in Borno politics, has the opinion that Governor Shettima, who is now relaxed after political temperature, has freedom to select whoever he considers fit. He may, therefore, defy all the existing arrangements in place for years and pick any of his like-minds in southern Borno who may not necessarily hails from Biu Emirate District.
Speaking on issue, the Senate Leader, Senator Mohammed Ali Ndume expressed hope that the governor would choose a personality who could fill the vacuum created by Mustapha's death.
Senator Ndume noted that the governor had the constitutional support to choose his deputy from southern Borno with or without consultations.
But Daily Trust on Sunday learnt that traditionally in Borno state, candidates for the position of deputy governor would be selected after wide consultations, involving the governor and the stakeholders in southern Borno.