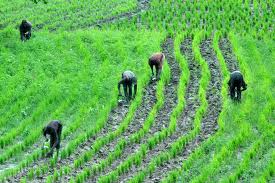 Edo State Governor, Adams Oshiomhole has criticised the much touted agricultural revolution of former President Goodluck Jonathan's administration, describing, it as a big scam. The nation, he said, is still import-dependent on rice and other foods.
Speaking with The Nation, Oshiomhole accused the past government of frittering away over N800billion on waivers for rice millers and others. The past government, he added, also killed local rice production and made agriculture unattractive.
"The agriculture revolution was one of the advertised achievements of President Goodluck Jonathan but we have since realised that it was purely a scam on us. It is also a policy contradiction where a government will give waivers and support importers to import what can be produced locally, thereby putting its own people out of business while enriching other nations. Local manufacturers that produce locally are punished. Unfortunately for us, rice millers imported rice without even paying duties, as a nation we should not be seen to be importing what is locally produced. Where then is the success story in the sector? Agriculture is not about bow-ties and designers suits but hard facts that cannot be uncontroverted."
According to him what the rice millers are practicing is known as dumping in international trade. He accused them of importing all manner of things both the good and the expired and dump it on the people whose government failed to protect due to corruption and maladministration.
Oshiomhole also called for the immediate discontinuance of fuel importation, urging President Muhammadu Buhari to ensure the refineries are made to produce to local capacity.
He commended local entrepreneurs such as the President, Dangote Group, Alhaji Aliko Dangote who he said though received waivers on VAT posed on local production of rice and cement.
On the planned revitalisation of Edo Cement Company at Okpella, he regretted that previous wrong policy of the People Democratic Party caused the ownership of the plant to change three times because rather than locally producing cement the company was importing the product.