Lagos State Govt Insists That N78m Was Amount Spent To Upgrade Fashola's Personal Website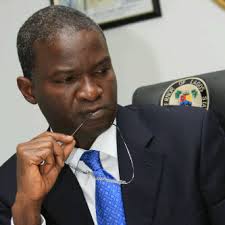 The Lagos State Government spent N78.3m to upgrade the personal website of former Governor Babatunde Fashola between 2014 and 2015, according to a report by the Lagos Public Procurement Agency.
The report, which was published on Lagos State's official website in May, stated that N78.3m was paid to a firm, Info Access Plus Limited, for the "upgrade of www.tundefashola.com website post May 29, 2015 handover".
Punch Newspaper correspondent who visited Fashola's website observed that the website displays the activities and achievements of Fashola and also has a link to the website of Fashola's wife, Abimbola.
All attempts to speak with Fashola's spokesperson, Mr. Hakeem Bello, proved abortive as he did not pick telephone calls neither did he respond to a text message.
However, the company which was awarded the contract to upgrade the website said it received only N10m for the job, adding that it was mischievous of the state government to state in its records that N78.3m was given to it.
The firm said the website was not Fashola's personal website but only reports and documents his activities as governor.
Curiously, however, the website has continued to report the activities of Fashola even over 60 days after he left office.
The statement read, "Our attention has been drawn to the Twitter campaign alleging that the Lagos State Government, led by Governor Babatunde Fashola spent N78m to upgrade the www.tundefashola.com website, a site dedicated to giving citizens unfettered access to the governor's daily activities and open access to information.
"It is imperative to state here that the website in question is not Mr. Babatunde Fashola's personal website but an official website which reports and documents his official activities as a way of accounting for his stewardship to the people of Lagos State.
"While we do not hold brief for the Lagos State Government, the selective loading of contracts awarded and executed by the Lagos State Public Procurement Agency is itself suspect and aimed at a pre-determined end. The statement of the contract line item and the cost ascribed to the website of the agency are therefore misleading and mischievous."
The firm, which claimed to have been running the website since 2008, said N12.5m was quoted for the upgrade of the website which included a complete redesign of the page templates.
It added, "N12.5m was quoted for the upgrade of the www.tundefashola.com website, which includes the complete re-design of all the hundreds of page templates. Meanwhile, the LASG spent less than N10m on this and not N78m being circulated on the social media.
"Info Access Plus Limited will provide free technical support for the entire life cycle of the web site.
"Info Access Plus Limited will manage the contents of the site, which consist of press releases, speeches, photos, videos, etc. for one year."