Elections Tribunal Admits Three Exhibits In Petition Against Saraki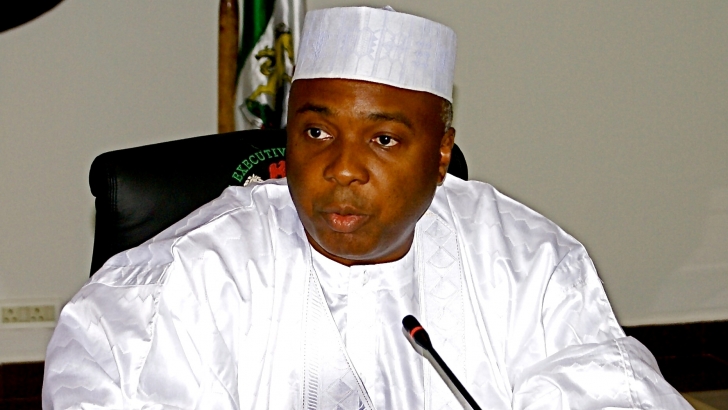 The Legislative Houses Elections Petitions Tribunal sitting in Ilorin at the weekend admitted three exhibits in the petition filed by Peoples Democratic Party (PDP) Candidate for Kwara Central Senatorial district, Alhaji Abdulrahaman Abdulrasak against Senator Bukola Saraki of All Progressives Congress (APC).
Abdulrasaq is challenging Saraki's victory at the National Assembly election held on March 28, praying the tribunal to declare him the winner of the election.
The Chairman of the three-man Tribunal, Justice Josiah Majebi marked the exhibits as tendered by the petitioner's counsel on Saturday.
Counsels to the Respondents, Yusuf Ali SAN (1st), Abdulwahab Bamidele (2nd) and Alarape Salman SAN for the third respondents all reserved the objections to the documents tendered.
13 envelopes containing Certified true copy of used ballot papers were marked as 'Exhibits P2'; Certified True Copy of Data Print-outs from Electronic Card Readers was marked 'Exhibits P3'; while Four Volumes of Report of Forensic Analysis carried on electoral materials used in four local governments in Kwara Central were admitted as 'Exhibits P4'
Abdulrazaq, who appeared as the second witness in the case was in the dock and cross-examined for almost 30 minutes by counsels to the first to third respondents on Friday. His personal assistant, Oloyin Abdullateef Adebayo was the first witness who testified in court during previous sitting. He claimed the election of Saraki who is the current Senate President, was massively rigged.
The petitioner, who spoke to newsmen after the court session, said he was determined to get justice in the matter, saying there was never election in Kwara Central on March 28.
Meanwhile, the petitioner on Saturday brought a Forensic Analyst who was admitted as the third Petitioner's Witness (PW3). The analyst, Mrs Nkolly Asika Obumse carried out analysis on the electoral materials.
When cross-examined, Obumse who is the wife of the petitioner's lead counsel, Mr. John Obumse, explained that she carried out the job mainly on the electoral materials used in the polls.
She also denied allegation that an official stamp of INEC was found in the pocket of one Mr Alex, a member of the team of Forensic Experts when they visited for inspection of materials in Ilorin.
However, the Tribunal has adjourned to August 10 for continuation of hearing.