Opinion: Since The Pogrom Against Ndigbo Of 1966, Which Way For Biafra?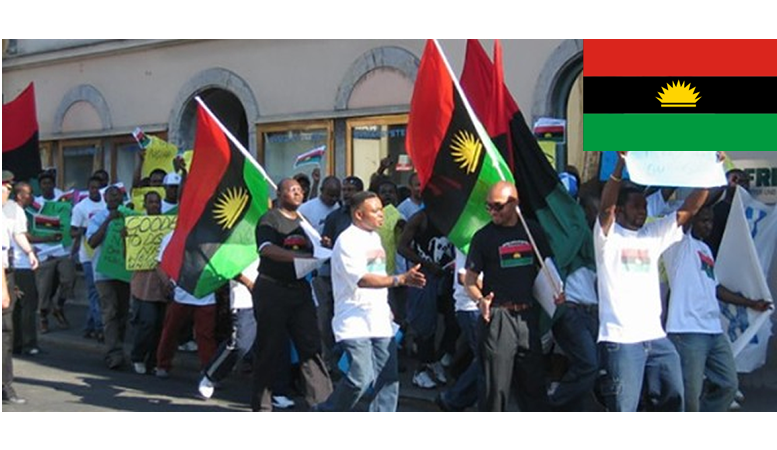 Estimated Reading Time: <1
Since the pogrom against Ndigbo of 1966, that led to the the declaration of the Republic of Biafra among the South Easterners of Nigeria , and the subsequent civil war, from 1967 to 1970, in which Biafrans were defeated, many do not know what to do with the name Biafra, which was drawn from the Bight of Biafra at the South of the Atlantic Ocean.
Most war veterans from the Nigeria side, especially the leaders treat everything about Biafra with ignominy, disdain, and repulsion. Out of pride and arrogance, they wish the name was crushed out of existence.
They forget , that over One million lives were lost in that war majorly through famine, and hunger; that over four African nations, and four nations in Europe recognised Biafra, within its two and half years of existence, that Ndigbo, are a people that show and carry love for humanity, everywhere they go; that Igbos are making their contributions to the building of a virile Nigerian nation in spite of and against all odds; that you can never kill love, for God is love; and that their poor handling of the case of Biafra is a major scar on the conscience of this nation, among other scars, which include the poor handling of Biafran war veterans, retirees, and pensioners of Nigeria, our Prison and police cells.
The only preserved relics of that civil war, can be found in the wretched, poorly maintained war museum in Umuahia. Till date many Biafran war veterans are yet to be paid their disengagement allowances and other entitlements 43 years after, and that is not a big surprise in a nation where even now, military pensioners still queue, and slump on queues for their pension stipends. If those who fought and won the civil war, and those who fight to keep Nigeria safe today still beg for their entitlements, Biafrans who lost the war, ought to learn, and look for a better solution to their predicaments.
The Movement for the Actualization of the Sovereign State of Biafra, MASSOB, have consistently employed very non-violent methods to keep the name Biafra, and the quest for justice, equity, peace and unity of the Igbo man in Nigeria alive.
They have resuscitated the Biafran Pounds across some Nigerian Borders, organised serious protest marches and rallies, which the Federal Government find embarrassing and typically, MASSOB have been visited with arrests, extra judicial killings, harassments, and all manners of suppressive actions, which have not solved the problem. The latest development in the Biafra story, is the Radio Biafra, which has given the Nigerian Broadcasting Commission, NBC, sleepless nights.
I have not tuned to that radio, but those who have listened to it, say it spreads hate and bad language, against the Nigerian state, while also carrying news worthy items on the realities of the Igbo man in Nigeria.
The radio is quite popular among Igbo youths, and the problem is that most of these youths never saw or fought the war, they did not see kwasiokor, Ogbunigwe, air raids, army camps, bedbugs, and the likes, they never lived on rodents, and reptiles as a source for protein. All they know about that war experience is from books, and the social media, and thus,may also not realise that a pharaoh who did not know Joseph is in on the throne.
Since the pogrom against Ndigbo of 1966 was reported to have told his audience during his recent trip to America that his government will be more favourably disposed to help those who voted massively for him, than those who did not. There is no problem with such a comment because it is exactly what politicians in Nigeria do, hence some argue that Igbos made the mistake of voting massively for former President Jonathan during the last elections.
It is realistic to expect a tilt against Ndigbo under this government, no matter what, and it will be a pleasant surprise if PMB did otherwise. Although we now hear that PMB was quoted out of context or wrongly, we will wait for time to tell.
Biafrans should now stand on the awareness created and the messages passed to turn things around for themselves.
The supporters of MASSOB, and Ndigbo in general, in Nigeria and in the diaspora should take the message to the next positive level in the best interest of Ndigbo. Rather than focus on the negativities, and fighting governments, MASSOB, Biafrans, and Ndigbo should harness all the energy and resources to look more inwards in order to turn Igbo land into that dream place for every person.
Their first assignment will be to hold our leaders in Igbo land responsible, by devising ways and means to challenge the present governors, and to make governance very hard and difficult for all thieves, and corrupt persons in our land. Information should be compiled on all past and present leaders, with the view of denying them access to governance where they have stolen the common wealth of Ndigbo in any way.
For example, a list of corrupt and stupendously rich governors making waves in the social media include some Igbo governors, and MASSOB should take such men to task, by organising to prosecute them now or soon after they lose their immunity. MASSOB should be in the fore front of the fight against corruption and kidnapping in Igbo Land.
Second, a master plan for rail and road transportation that will cover the entire Igbo land should be produced, in addition to Carbohydrate and protein supply plan for the South East Zone.
Third, the Igbo States, should agree with some South South States, especially Delta and Bayelsa on the development of a commercially viable deep sea port to augment Port Harcourt and Calabar Ports and to reduce the drudgery, risks and blackmail from importation through Lagos Ports.
The general attitude of an average Biafran should be to develop Igbo land and its environs first and as matter of urgent priority, with or without the oil money from federal government. Should this not be the way Biafra should go ?
_________________________________________
Mr Clement Udegbe, a legal practitioner, wrote from Lagos.
Disclaimer
It is the policy of NewsWireNGR not to endorse or oppose any opinion expressed by a User or Content provided by a User, Contributor, or other independent party.
Opinion pieces and contributions are the opinions of the writers only and do not represent the opinions of NewsWireNGR.