Buhari Should Enjoy His Honeymoon Period, Change Will Be Seen After 100 Days In Office – Tinubu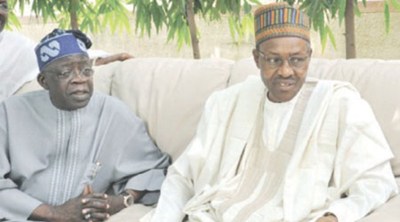 Estimated Reading Time: <1
National leader of the All Progressives Congress, APC, Bola Tinubu has assured that Nigerians will begin to witness the change they voted for after President Muhammadu Buhari reaches 100 days in office.
Tinubu, after a meeting with President Buhari on Tuesday told newsmen that it was better to settle in office before taking some decisions than rushing to act.
He said: "May 29 was when this president was sworn in. It is an international norm all over the world, there is a honeymoon period, at least a minimum of 100 days honeymoon. Change is not by magic. It driven by the people, the spirit and the character and the planning.
"We have had so much problem in this country in the past because we ran into policy blind folded without adequate and effective planning, you don't have results unless you plan well.
"The time it takes you to plan, examine, rejig, re-evaluate is more important than the time you just rush into taking action because you are either being sentimental, being emotional and being driven by other forces that are not expected. It is not fair to jump into those conclusions.