Osun Governor Aregbesola Who Can't Pay Salaries Was Awarded For "Service To Humanity"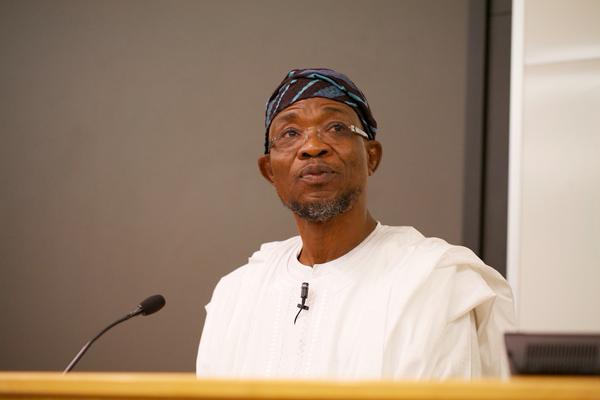 Gov. Rauf Aregbesola of Osun has once again blamed the failure of his administration to pay workers salaries as at when on the drop in allocations to the state from the Federation Account.
Aregbesola said this Friday night during a chat with newsmen on the sidelines of an award to him for service to humanity by Voice of African Women for Human Dignity, an NGO.
The award was presented to Aregbesola at Asokoro, Abuja.
The governor said that he was pained by his government's inability to pay salaries regularly.
"I have found it hard to pay the wage bills owing to the declining federal allocation to the state.
"Federal allocation to the state has reduced by 40 per cent since 2013, thereby making it difficult for my government to meet its responsibilities," he said.
Aregbesola said the situation became so bad at a point that he resorted to the state's reserves, which he said also ran out on the payment of salaries.
He said administration had already to accumulate debt of N12 billion in its bid to ensure that salaries were paid regularly, adding that his government was committed to the people's welfare.
Aregbesola commended the group for the award and promised that he would inspire him to do more for the public.
"I got into politics so that I can render quality services to the suffering people of my state because majority of the people are hungry and angry,'' he said.
At the presentation of the award by Hajia Amina Idris, the president of group, said the award was to appreciate the governor for his service to humanity.
"This award of excellence is in recognition of your immense contribution to humanity", she said.
Idris said Aregbesola had been exceptionally helpful in the area of improving child education and promotion of human dignity through lofty programmes.