Pres. Buhari Plans To Arrests & Imprison Goodluck Jonathan, Group Alleges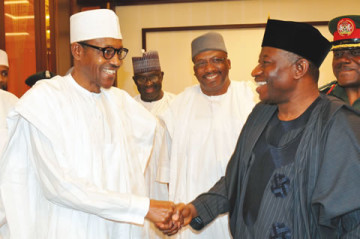 Estimated Reading Time: <1
A civil rights organisation, Vanguards of Nigeria's Democracy has accused President Muhammadu Buhari of planning to "investigate, malign and imprison" former President Goodluck Jonathan on trumped-up charges.
The VND specifically accused the President and his All Progressives Congress-led administration of "unsavoury and patently repugnant action," which it said, were anti-Niger Delta and against the Ijaw ethnic nationality.
According to the group, allegations of missing funds from the nation's treasury during the tenure of the immediate past administration were targeted at Jonathan.
Speaking through a statement released in Abuja on Saturday, the spokesperson of VND, Mr. Osaghae Ogiemudia, alleged that President Buhari had already shown signs of being against the Niger Delta and the Ijaws.
According to him, all Niger-Deltans, especially those from the Ijaw ethnic nationality, should support and rally round Bayelsa State governor, Seriake Dickson, "the only Ijaw governor."
He said, "We, the members of the Vanguards of Nigeria's Democracy, are aware of some clandestine moves made by the APC-led government to probe, investigate, malign and imprison ex President Jonathan. We are already aware of the trumped-up charges the APC government is leveling against a man who has diligently served the Nigerian state at the highest level of government.
"The APC led government should take notice that the appointments made so far are skewed in favour of the North, as no Ijaw man has been appointed. While an Ijaw President did not discriminate in appointment, President Buhari is implementing a Northern agenda through some of the appointments."
Reacting to the allegations, Special Adviser to the President on Media and Publicity, Mr. Femi Adesina, wondered why people would dwell on speculations when nothing concrete had been established against Jonathan.
He said, "All these are speculations and I cannot react to speculations because there is nothing concrete yet against the former President."