Saraki Lacks Constitutional Right To Summon Permanent Secretaries – Senator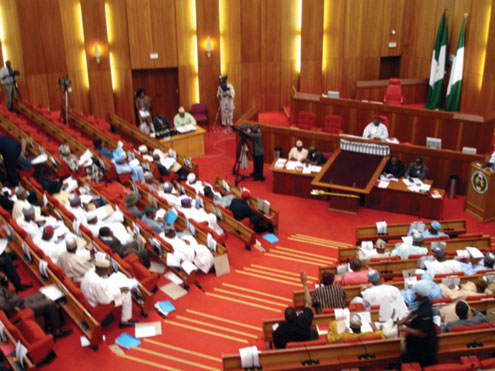 The Senator representing Zamfara Central Senatorial District, Kabir Marafa, said on Sunday that the Senate President lacked both moral and constitutional rights to summon the Permanent Secretary, Federal Ministry of Finance, for briefing on the state of the economy.
Marafa, the spokesperson for the Senate Unity Forum, who stated this in a statement issued in Abuja, noted that since Saraki had allegedly violated some sections of the constitution to emerge as senate president on June 9, he cannot accuse another person of committing the same offence he had committed.
The senate leadership had summoned the Permanent Secretary of the Federal Ministry of Finance and other top officials to decline an invitation extended to them by the leadership of the National Assembly for a briefing on the state of the nation's economy last week was currently brewing a major face-off between the two arms of government.
But Marafa, in his statement, accused Saraki of violating the same constitution which he claimed the permanent secretary had run foul of.
The senator said, "I read with open-mouth amazement, the letter written by both the Chief of Staff to the Senate President and that of the Clerk to the National Assembly on the refusal or inability of a government functionary to honour the invitation of the leadership of the senate.
"They were saying the refusal violates section 67(2) of the constitution of the Federal Republic of Nigeria. Can somebody please tell them that they are guilty of similar, if not higher, offence?
"They, infact, not only violated the constitution to ascend to the Senate leadership, they murdered it !"