Buhari And Saraki Are Not On Speaking Terms, President Refuses To Meet Senate President Weeks After Emergence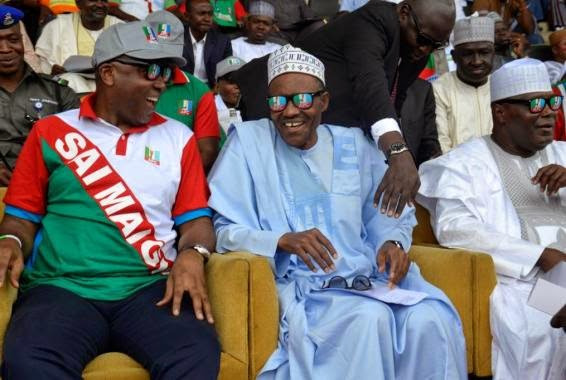 Estimated Reading Time: <1
The crisis between President Muhammadu Buhari and Senate President Bukola Saraki is taking its toll on executive-legislature relations as both men are not on speaking terms, TheCable gathered.
Buhari, who preferred Ahmad Lawan as senate president, is still livid with Saraki for cutting a deal with the Peoples Democratic Party (PDP) and outsmarting the All Progressives Congress (APC) leaders in the race for Nigeria's No. 3 position.
Yakubu Dogara, speaker of the house of representatives, also went against the party's choice of Femi Gbajabiamila and won a closely fought contest.
But Buhari is particularly irked that a member of the PDP, Ike Ekweremadu, was elected deputy senate president.
Although Buhari initially promised to work with Saraki after expressing his disappointment that the party's instructions were not obeyed, he remarkably did not congratulate Saraki and has repeatedly stalled on attempts by the senate president to reach out to him.
"Since June 9, both men have not spoken on phone, much less seen eye-to-eye. Buhari feels nauseated by the events leading to Saraki's emergence. It was a frontal attack," a political associate of the president told TheCable.
TheCable learnt that Saraki made efforts to reach out to Buhari but had no breakthrough as all communication channels were blocked.
"He initially wanted to know when Buhari would like to send the ministerial nominations for screening so that he could tailor the programme of the senate to fit into the timeframe, but he met a brickwall, so he adjourned till June 23, in hope that things would have calmed down by then," a source in the know of the development said.
While Dogara and Saraki are seen as "rebels" by the APC leaders, Buhari is more disposed to working with the speaker because he was more interested in the senate leadership.
"The north-east has a very good argument to produce the senate president having been marginalised in northern Nigeria politics for long. That was why Lawan, who was never a member of PDP, was preferred by the president for the position," the source further said.
The storm was worsened when the senate reconvened last week and appointed principal officers not favoured by the APC leadership.
It had been suggested to Buhari that Lawan should be majority leader in order to put Saraki in check, with Bola Tinubu's ally, George Akume, serving as deputy leader.
"The original plan was that Buhari would be dealing with the senate through Lawan rather than have direct contact with Saraki, but again Lawan was rejected and Ali Ndume, who is a Saraki ally, was picked instead," the source added.
A major problem Lawan faced was that the senate caucus from the north-east, his geo-political zone, were not well disposed to him.
"Of the 14 APC north-east senators who spoke, only two wanted Lawan. Ndume had 12 in his corner. It was going to be difficult to pick Lawan as majority leader. All the zonal caucuses chose whom they wanted," a pro-Saraki senator told TheCable.
An already delicate situation was worsened after the choice of principal officers as Saraki and his allies are now accused of undermining "party supremacy".
Those sympathetic to Saraki are asking, however, if the APC leaders would be sending a list of ministerial nominees with portfolios to Buhari as it did in its letters to the senate president and speaker over the appointment of principal officers of the national assembly.