APC Crisis: I Don't Belong To Any Of The Contending Power Blocs — Oyegun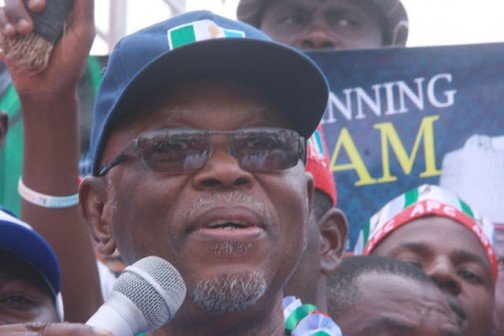 Estimated Reading Time: <1
All Progressives Congress (APC) National Chairman, Chief John Oyegun, is challenging those accusing him of receiving gratification over the Senate President and Speaker of the House of Representatives elections to prove their claim.
"It is my integrity they are trying to smear", Oyegun fired back on Saturday in an Exclusive Interview with Vanguard Newspaper.
The party leader had been accused of being bribed to conduct mock election that produced Senator Ahmed Lawan and Hon Femi Gbajabiamila as the APC candidates for the Senate President and House Speaker respectively.
Oyegun said,  "People are trying to push me in one direction or the other but one thing I have to my credit is my neutrality. I don't belong to any of the contending power blocs in the party. And of course, that has its price. And that is why you have heard a lot of it directed personally to smear me. I have built a reputation that has lasted for over 70 years. I don't have to go and be taking peanuts from some political gladiators. So, whatever they try to do, they cannot smear my character. If anybody has given me gratification to do anything, let him come out and say so, where and when and how much."
But some APC senators not only defied the party's choice, but also collaborated with the opposition Peoples Democratic Party (PDP) lawmakers to elect Senator Bukola Saraki as Senate President and Hon. Yakubu Dogara as House Speaker.
In reaction to the visit by the 8 APC governors who had called for his resignation, Oyegun said, "Well, the Governors came to consult with me which is beautiful, legitimate and I valued the views and the ideas that they came with and that was all there was to it. Nothing more, nothing less."
"There is a situation in the party and people have views to express and they came to express their views. It was very good and I value those views. We voted for change and we cannot start messing around now."
The opposition PDP Senator Ike Ekweremadu equally emerged as Deputy Senate President.
One of those who accused Oyegun of being compromised on the mock election issue and asked for his resignation was the APC Deputy National Publicity Secretary, Comrade Timi Frank.
By virtue of his office, many see him as having taken sides, especially with the northern power bloc in the party seemingly being controlled by President Muhammadu Buhari and former Vice President Atiku Abubukar.
Some quarters have also aligned him with the camp of Saraki, accusing him of ditching the camp of the national leader of the party, Asiwaju Bola Tinubu, which worked assiduously for his enthronement as National Chairman.
But the allegations, according to Oyegun are unfounded.
He maintained his neutrality in the emerging power blocs, saying that his interest was to bring the party back together to deliver on its campaign promises to Nigerians.