Former President Jonathan's Son Hale And Hearty Contrary To Rumours Of His Passing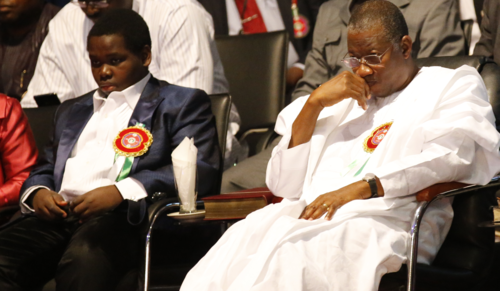 Ariwera Jonathan, a teenage son of former President Goodluck Jonathan, is hale and hearty, contrary to rumors of his passing, sources close to the former Nigeria leader said.
A former media assistant to the President who spoke to NewsWireNGR on Tuesday said that his rumored death came as a surprise to them, as the boy is not even sick.
Social media outlets were buzzing with the rumor all of Tuesday.  Another associate of the Jonathan family in strong terms condemned those peddling the rumours of the demise of the Former President's son and urged online platforms to be more responsible in reportage..
"How can a news website report about the demise of the President's son and not in anyway call to find out?" She queried..
"Ariwera is not even sick not to talk of dying, we condemn the pedlars of such notorious rumours and urge the media to be responsible in their reports, especially the owners of blogs and social media users in Nigeria", the associate who doesn't want her name in prints mentioned.