Tambuwal Reprimands Rebellious Driver Who Flaunts Traffic Rule, In Reminder Of Fashola's Arrest Of An Okada Rider In 2012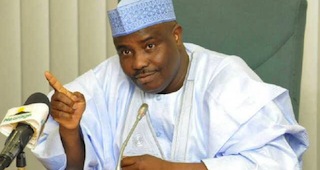 Estimated Reading Time: <1
By Chris Nomjov
Newly sworn-in governor of Sokoto state, Aminu Waziri Tambuwal, on Tuesday, reprimanded a rebellious driver from breaking traffic laws at a roundabout within Sokoto metropolis.
According to the ThisDay report, the new governor was driving after office hours when he was stopped by the traffic light at the popular Usmanu Danfodio University Teaching Hospital roundabout in Gawon Nama area of the city.
As he was patiently waiting for the light to turn green, a man in a Mercedes E350 model suddenly left the gathering queue and attempted to overtake other road users, defying the traffic light.
Seeing the man's action, Tambuwal drove out of the queue and stopped the unruly driver.
He was said to have directed the man to reverse his car and return to his position on the queue, while also advising him to be disciplined and obey traffic rules at all times.
Governor Tambuwal's action is akin to the acts of former Lagos state Governor, Babatunde Fashola. It would be recalled that in 2012, then Governor Fashola, accosted a senior Force officer and even arrested a motorcyclist, for flaunting traffic rules.
Tambuwal is the immediate past speaker of the House of representatives. On October 28, 2014, he formally defected from the Peoples Democratic Party to the All Progressives Congress on whose platform he contested for the governorship of Sokoto state in the April 11 polls.
After his swearing in on May 29, Tambuwal, appointed Malam Imam Imam, as his special adviser on media and public affairs.