Chuck Blazer Admits He & Others On FIFA Committee Agreed To Accept Bribes Over Award Of 2010 World Cup To South Africa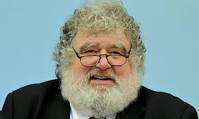 Estimated Reading Time: <1
by Zenith Oduah
Former top Fifa official Chuck Blazer has detailed his bribe-taking, racketeering and money laundering as part of a guilty plea in New York.
He says that he and others on Fifa's executive committee agreed to accept bribes in conjunction with the choice of South Africa as 2010 World Cup host.
Mr Blazer says he also accepted bribes over the 1998 event.
The US has launched a wide-ranging criminal case that engulfed Fifa and led President Sepp Blatter to resign.
Charles "Chuck" Blazer is an American former soccer administrator, who held a number of high level positions. He was a FIFA Executive Committee member from 1996 to 2013, the CONCACAF General Secretary from 1990 until 2011, and Executive Vice President of the U.S. Soccer Federation.
On 3rd June 2015, Mr Blazer admitted accepting bribes for the French and South African World Cups in a New York court.