"PDP Didn't Win Elections In The South-East" – Kalu Says It Was Massive Rigging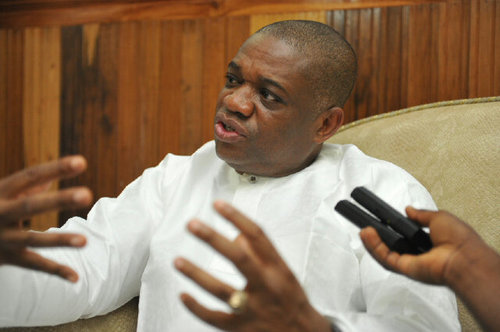 Estimated Reading Time: <1
A former Governor of Abia State, Orji Uzor Kalu, says the Igbo did not vote for the Peoples Democratic Party in the last general election in the South-East, maintaining that the PDP massively rigged the election in the region.
Kalu, who was an ardent supporter of President Goodluck Jonathan before the elections, said this during a programme on Channels TV titled, "View from the Top," on Monday.
The former governor said out of the five states in the South-East, the PDP only won elections in Ebonyi and Enugu states.
He said it would, therefore, be unfair to accuse the Igbo of voting en masse for the PDP.
Kalu said the people of Abia State voted against the PDP because of their feelings towards Governor Theodore Orji and the overbearing nature of the President's wife, Patience Jonathan.
The former governor, who lost the Abia-North senatorial election on the platform of the Progressives Peoples Alliance, maintained that he did not lose but that the PDP rigged the election.
He said, "The issue is that what happened in my constituency was a rigged election. Apart from Enugu and Ebonyi states, where the PDP had very good outings, every other state they won in the South-East was rigged.
"So, the Igbo did not make any mistakes, I feel bad when I see people blaming the Igbo. In the presidential election, the result brought out from Abia where I was, did not reflect the voting pattern of the people.
"In Aba, I can tell you and I will tell Jonathan, that he did not win election in Aba. The APC won the election there but when I saw the result, it was a different thing because the people were angry because of the attitude of T. A Orji and the occasional interference of the wife of the President. People were angry."
Kalu said it would be unfair to criticise a geopolitical zone for voting en masse for a party, adding that in 1999, the South-West voted massively for the then Alliance for Democracy even though Olusegun Obasanjo of the PDP is from the zone.