President Jonathan Suspends Perm Sec Over Diplomatic Row With Africa South Africa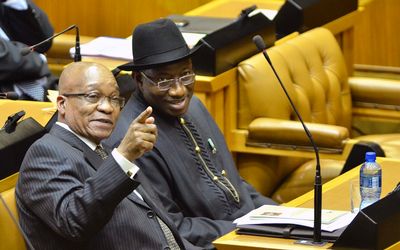 Estimated Reading Time: <1
President Goodluck Jonathan has ordered the suspension of the permanent secretary in the ministry of foreign affairs, Danjuma Sheni, over the controversial recall of Nigeria's high commissioner to South Africa.
The recall, following attacks on foreigners, had generated a scathing response from the South African authorities which in turn taunted Jonathan over the Chibok schoolgirls.
Sheni was suspended for his alleged role in the controversy surrounding their invitation back home. The government had on Monday denied recalling her envoys to South Africa after the South African authorities described it as unnecessary.
Sheni has been queried by the head of service of the federation, Danladi Kifasi, on the orders of Jonathan.
Reuben Abati, presidential spokesman, had told the media that there was no truth in the report that Nigerian envoys in South Africa had been recalled. Abati had explained that the true situation was that the country's Charge D'Affairs was invited for consultation.
Sheni's offence, sources said, was that he did not get clearance from the president before inviting the country's charge d'Affairs in South Africa for consultation.
Jonathan was miffed that the ministry "embarrassed" him again after the diplomatic row between Nigeria and Morocco over whether he indeed spoke with King Mohammed VI as claimed by the ministry. A new permanent secretary has been redeployed to the ministry to replace him.