Social Good Nigeria Unveils 'The PopUp Incubator Project' For Techies in #Nigeria at the International Girls in ICT Day Event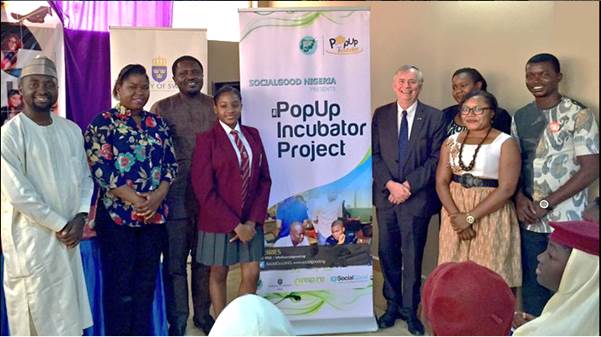 Estimated Reading Time: <1
Social Good Nigeria has unveiled "The PopUp Incubator Project, a project targeted at developing the capacities of techies, entrepreneurs, young professionals and most importantly to promote women and girls' involvement in Information Communication Technology Sector in Nigeria. The unveiling took place in Abuja, Federal Capital Territory today, 23rd April being the International Day of Girls in ICT across the world, young school girls from Lead British School, Abuja and professionals in ICT were in attendance.  The Project is funded by the Embassy of Sweden in Nigeria.
The Project which is in collaboration with Enspire Hub Incubator at the Abuja Technology Village, in Abuja will be commencing its pilot programmes at Technology Villages in 6 major cities across Nigeria, namely: Abuja, Jos, Lagos, Warri, Oyo, Kaduna
Social Good Nigeria PopUp Incubator is expected to enhance the capacities of those who are in love with Techie activities such as programming, coding, web designing as well as social networking with Nigeria having the highest number of users in Africa. Part of our focus is to also see increased women and girls' involvement in the ICT sector in Nigeria, said Esther Agbarakwe, Co-Founder, Social Good Nigeria.
According to Swedish Ambassador in Nigeria, Svante Kilander, while addressing the participants, he said,
"The Embassy is proud and happy to partner with Social Good Nigeria to increase the knowledge exchange between ?Sweden and ??Nigeria on social entrepreneurship, CSR and women's rights, resources and representation. The Swedish Government wants to strengthen gender equality, improve women's access to resources and increase women's representation – nationally as well as internationally – we call it a feminist foreign policy. I'm thus especially happy that our partnership with Social Good Nigeria and the 'The PopUp Incubator Project' was unveiled in connection with the commemoration of the 2015 International Girls in ICT Day. Swedish embassy believes so much in women participation in social entrepreneurship and as part of corporate responsibility we have taken it upon ourselves to be part of a project as this". Already Sweden has strong Policy Reform on Gender Equality and Feminism. Therefore, this collaboration could serve as Foreign Policy Reform project in Nigeria, he affirmed.
Omasan Ogibi, Software Engineer, Ericsson West Africa, was one of the guest, speaking at the event, she recounted her experience as a young woman who ventured into ICT industry early. " I could remember I was the only girl in my class back then amongst men. I was a timid girl but determined to succeed" she rose from being Software Engineer at Ericsson to become Regional Head Corporate Responsibility Ericsson, West Africa. "It wasn't easy, but with determination and hardwork I got it" she alluded. She however, encouraged school girls at the event to hold on to their dreams and never give up irrespective of the intimidation particularly from the opposite sex.
Also speaking via a Video Message, Dr. Mairo Mandara of Gates Foundation said when we educate a girl, we educate a generation.  She further said that With hard work, girls will rule the world
Panel discussion session on 'how to improve women and girls' participation and involvement in the ICT sector in Nigeria moderated by Esther Agbarakwe had panellists comprised Bankole Oloruntoba of Enspire Incubator, Ize Adaba of Third Sector Support and Omasan Ogisi had intense deliberations on the ways to overcome low representation of women in ICT industry in Nigeria.
Few challenges were identified such as societal views on gender equality and misconceptions around girl child on the part of most parents. Strategies to overcome these challenges were highlighted such as adequate sensitisation and advocacy on girl child's right as well as support for gender equality policy.
In attendance at the event were Social Good Nigerian Brand Ambassadors; Dr. Laz Ude Eze and "BigMo"