Pinnick Prophesies Return To Good Times As NFF Seal Kit Deal With Nike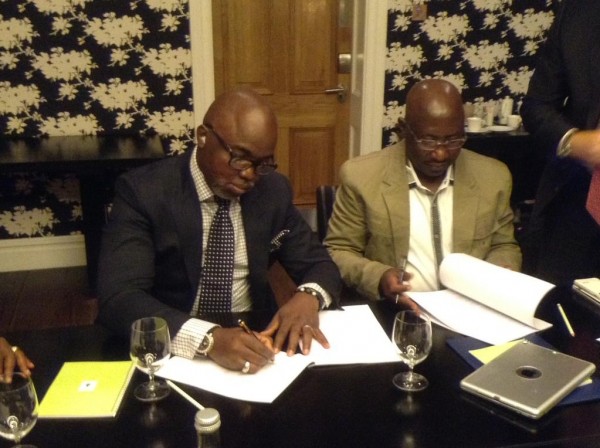 Estimated Reading Time: <1
By Chris Nomjov
President of the Nigeria Football Federation (NFF), Amaju Pinnick has predicted a return to the good times for Nigerian football, after the NFF announced a new kit deal with Nike, on Thursday.
The American sports brand will design and develop football kits for both the men and women national football teams starting from April 1, 2015 to 2018.
He predicted that Nike will restore joyous moments and trophy wins to the teams.
"During those years, Nigeria won a first-ever Olympics football gold (1996) and reached the round of 16 at the FIFA World Cup (1998)," he said. "But I have no doubts whatsoever that this second coming of Nike into Nigeria football will bring even more joyous moments with plenty of laurels for the national teams.
"Nigeria football has excellent potential all around and a top global brand like Nike will help to spur the processes that the present NFF administration has put in place to drive our game to the next level."
The General Manager for Nike, Laurent Payre, also expressed his pleasure.
"We are very pleased to partner with the Nigeria Football Federation, one of Africa's premier teams," he said. "The passion for football in Nigeria is renowned and Nike is committed to supporting and advancing the game at all levels through inspiration and innovation for young men and women."
NFF President further noted that, "This exciting partnership with Nike signifies our commitment toward building and strengthening a successful football future in Nigeria. The game enjoys a huge following across the country and we want to fuel participation and ultimately the success of our future national teams."
Other countries sponsored by Nike includes Australia, Brasil, England, France, the Netherlands, Portugal, South Africa, South Korea, the U.S. and others.
Nigeria had been without a kit sponsor since German manufacturers Adidas decided not to renew its previous four-year deal, which expired in December.
Nike were the country's kit manufacturers at the 2002 and 1998 FIFA World Cup finals.
The new partnership signed will comprise of upplying performance and training kits to all nine of the NFF teams at every level, including the men's and women's senior teams, men's and women's under-20 teams, men's and women's under-17 teams, men's and women's Olympic teams, and the men's beach football team.
The under-20 men's team, the Flying Eagles will unveil the kit at the U-20 football tournament which will take place in New Zealand from May 31.
The kit deal comes two days after the NFF agreed a two year contract extension with Super Eagles coach, Stephen Keshi, setting Nigerian football on the path to greater heights once again.