PDP Bars Jonathan From Running For Presidency In 2019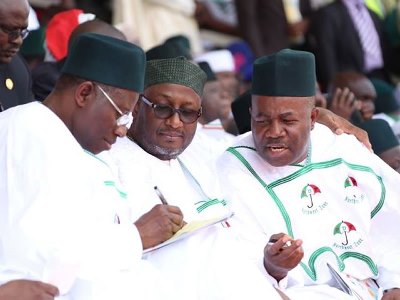 Estimated Reading Time: <1
by Deji Abiodun
A member of the People's Democratic Party, PDP, Board of Trustees Chief Ebenezer Babatope on Wednesday said that President Goodluck Jonathan will not contest for the presidency in 2019.
Babatope who is also a member of the party's elders' caucus said PDP will field a strong Hausa/Fulani candidate to run against the President-elect, Muhammadu Buhari, in 2019.
He said Jonathan is a leader who has done his best in uplifting Nigeria's democracy, adding that the country would forever remember him as a committed leader who kept the nation as one despite several challenges.
He added that he was sure that Jonathan would not seek to contest the 2019 presidential election although "the people of the South-South have the right to present a candidate for the election, I'm sure the President will not contest; He will lead us to against the All Progressives Congress."
He said, "The President has set himself apart as a great Nigerian leader, who is committed to seeing Nigeria blossom into a great democracy. He has laid a solid foundation for the nation's democracy and he would forever be remembered."
"The President will not contest the 2019 presidential election. The PDP will look for a strong Hausa/Fulani presidential candidate to contest against Maj. Gen. Muhammadu Buhari (retd.). "We have a strong presence in the South-South, South-East and we have two governors in the South-West.
We are going to slug it out together in the North in 2019. We are going to flush out the APC in 2019 because we are going to correct our mistakes and take back the central government."
"We are going to restructure our party. The National Chairman of the party, Alhaji Adamu Mu'azu, will convene a meeting in two weeks' time when we will objectively discuss the last elections. "Apart from the grand conspiracy against our party by the powers that be in the elections, we are going to tackle the problem of imposition, which was a great area of mistake on our side.
"Crises were recorded across the states over imposition. We are going to guard against this. The APC will, naturally, make its own mistakes and we will capitalise on these.
"It is given in politics that mistakes would occur among the ruling party. We will all see when this begins to happen. We are watching and waiting," he added.