"Defend Fayose With The Last Pint Of Your Blood" – Ekiti State Media Calls On NURTW, Okada Unions To Storm Assembly Complex Tomorrow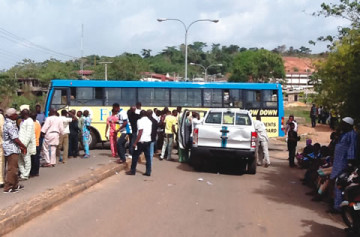 Estimated Reading Time: <1
by Chris Nomjov
Ekiti state broadcasting service has called on members of the NURTW and Okada Unions in the state, to come out en masse to the State Assembly complex, tomorrow, to defend Gov. Ayo Fayose, from possible impeachment.
The public service announcement ran on both the radio and television arms of the state broadcast service. The message called on the transport unions and other citizens of the state to converge at the State Assembly complex in Ado-Ekiti and "…defend Fayose with the last pint of their blood."
It would be recalled that, a day short of two weeks ago, scores of supporters of Governor Ayo Fayose, blocked all access roads leading to the Ekiti State House of Assembly Complex in a bid to prevent any impeachment proceedings.
They had arrived the vicinity as early as 8.00 am and staged a protest around the Assembly complex saying they would never allow any impeachment process against Fayose to see the light of the day.
Their action was consequent upon a rumor that the 19 All Progressives Congress (APC) lawmakers who form majority in the Assembly would storm the complex to hold a sitting to impeach Fayose from office.
The Peoples Democratic Party (PDP) loyalists stormed the Assembly area singing pro-Fayose songs and cursed the APC lawmakers for harboring plans to remove the governor whom they claim is innocent of the impeachable offences.