"Lagos Under My Watch Will Not Discriminate," Governor-Elect, Ambode Speaks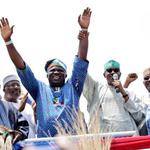 by Deji Abiodun
The Governor-elect of Lagos State, Akinwunmi Ambode has assured residents of the state that there would be no discrimination of any sort during his tenure.
Ambode, the All Progressives Congress (APC) candidate, also thanked Lagosians for voting for him in the governorship elections which held on Saturday, April 11, 2015.
He made the statements as part of his acceptance speech which was given at the APC secretariat in the Ikeja area of the state.
"The people of Lagos have demonstrated that it is not about ethnicity, or religion but about a common desire to enthrone good governance. Lagos under my watch will not discriminate. It has not in the past. It has not in the present. Not even in the future. There will be no political victimization," Ambode said.
"In your collective wisdom you refused to reward a party that failed at the national level by giving that party the stewardship of our beloved Lagos. You have for the first time in 16 years married progressive governance at the national level with progressive governance at the state level," he added.
"Our state government and the Federal government will be one vision, one mind and one accord and that is to govern you wisely not rule over you rudely. Lagos will enjoy optimal development and growth through APC working in tandem at the state and federal levels. This cooperation and enhanced policy harmony will surely pay handsome dividends," Ambode said.
The Governor-elect also pledged himself to increasing the prosperity of Lagos.
"I am humbled that you have placed your trust and faith in me. The love of this state and our common belief in what we can accomplish, our belief in what this state already is, and in what it is destined to become binds us together in a social and moral contract of high purpose," Ambode said.
"I shall honor that contract with every fibre of my being. This day I pledge to you that I shall devote myself to bringing even greater prosperity, growth and development to every inch of this state, that I shall build on the legacy and progress of the Bola Tinubu and Babatunde Fashola administrations, I shall bring the best of Lagos into my government and I shall make you proud and glad that you chose me as your next governor," he added.
Ambode had earlier promised an all-inclusive government after the Oba of Lagos, threatened Igbos in the state to either vote for the APC candidate or die.
Ambode who won 811,994 votes to beat Jimi Agbaje of the Peoples Democratic Party (PDP), who won 659,788 votes.