"On PDP I Stand" Deputy Senate President, Ike Ekweremadu Dismiss Reports Of Defecting To APC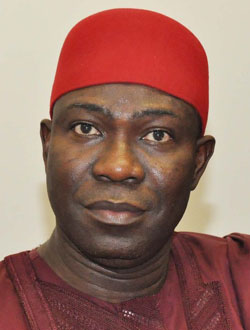 by Musa Abdullahi
Contrary to speculations, Deputy Senate President, Senator Ike Ekweremadu, yesterday, declared that he was not going to jump ship by defecting to All Progressives Congress, APC because his party, Peoples Democratic Party, PDP, lost the presidential election.
He  rather maintained that in view of the unfolding political scenario in the country, PDP leaders were bracing up to take the bull by the horn to reposition and strengthen the party for a brighter future.
He made the position known while addressing a meeting of PDP stakeholders from Enugu West senatorial district in Enugu yesterday.
His words: "I have read and listened to many lament what they regard as the South East misadventure in view of the emerging scenarios at the federal level.
''But let me assure you that Ndigbo has done nothing to be ashamed of and we owe no one any apologies for casting our ballots for the PDP.
"For me, therefore, our voting pattern is rather a defining moment for Ndigbo because we spoke with one voice and we are proud of our electoral decisions.
''We voted for a party that integrated us into the mainstream of Nigerian politics, elected/appointed our people into strategic offices, and addressed some of our major infrastructural challenges.
''You would agree with me that Enugu West in particular has never had it so good in infrastructure transformation. So, we took a principled position and accept full responsibility for our political choices.
"I have also heard a lot of permutations on the possible mass defection of Ndigbo to the APC in the coming dispensation. While I will not hold brief for all the PDP stalwarts of South East origin, especially because our constitution provides for freedom of association, I can assure you that on PDP we stand. ''At least, count Senator Ike Ekweremadu out of any defection to the opposition.