'Oba Akinolu Is The Father Of All, Irrespective Of Tribe' – The Palace Debunks Anti-Igbo Remarks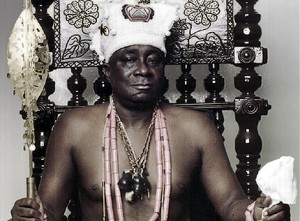 Estimated Reading Time: <1
By Chris Nomjov
The palace of the Oba of Lagos, Oba Rilwanu Akinolu has clarified the Oba's remarks, when he received Igbo leaders in his palace. The Crown has come out to clarify the Oba's remarks and debunk the viral comments, that threatened the Igbos in Lagos, to vote for APC's gubernatorial candidate, Akinwunmi Ambode, else they would be expunged from the state.
Read full statement below.
THE PALACE MAKES FURTHER CLARIFICATION ON THE STATEMENT BY THE OBA OF LAGOS.
?My attention has been drawn to a publication in a national newspaper where HRM Oba Riliwanu Akinolu was alleged to have threatened Igbos in Lagos to make them vote for Ambode.
Last Sunday, all honorary Eze Ndigbos in Lagos paid a courtesy call to HRM Oba Akinolu. At the meeting the visitors praised the Oba for his fatherly support for and cooperation with Igbos in. Lagos. They assured him of their continued good neighborliness with other tribes in Lagos and support everything that'll further strengthen that harmony.
Oba Akiolu on his part acknowledged the enviable performance of Governor Fashola and his contribution to the growth of investments in Lagos. He gave the assurance that he is not disturbed or angry with South-East and South- South votes for President Jonathan as perceived by the Eze Ndigbos. The Obas thereafter called on the Igbos chiefs to show appreciation to Lagos State by supporting his candidate Mr. Ambode for continuity of excellence as they have earlier promised.
He assured them of his continued support? and assistance where needed and the meeting ended with the traditional breaking of kolas, alligator pepper, and bitter kola and pouring of liberation on the ground. It was within this context that that the tradition of Lagos with regard to the lagoon came up. It was noted that whoever works against the throne and the interest and peaceful co-existence of Lagos would end up in the lagoon as per tradition.
2.Oba Akiolu stated further that the Igbo people have not betrayed the throne. Lagos has also not betrayed the Igbo people. Lagos has done so much to make the Igbos comfortable and to prosper. For this, we expect reciprocal respect and understanding. The Oba of Lagos prays that the Lagoon and the throne will continue to bless and protect all those who reside and visit Lagos.
3. Oba Akiolu is the father of all irrespective of tribe, religion or political persuasion. In Lagos, we have an old traditional proverb that relates to the Lagoon. The Lagoon is unique to Lagos. The proverb stresses the need for unity and understanding when you do business in an environment and in this case when you live and do business in Lagos.
Oba Akiolu prays for peace for the land of Lagos and prosperity for all its inhabitants.
Signed:
Chief Lateef Aderibigbe Ajose,
Opeluwa of Lagos
April 6, 2015