Nigeria's Naira Firmed 0.46 Percent To 217 Against The Dollar After Buhari Win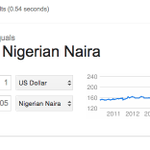 Estimated Reading Time: <1
by Chukwu Obi
Nigeria's naira firmed 0.46 percent to 217 against the dollar on Wednesday on the parallel market after opposition leader Muhammadu Buhari won the presidential election in Africa's biggest economy, a black market dealer told Reuters.
The dealer said he had seen little demand for dollar compared with before the polls.
The interbank opened at 197 naira to the dollar, a level it had traded at since February, after the central bank pegged the rate, following a defacto devaluation.