"Northern Voters Were Mostly Under-aged" PDP Tells INEC To Cancel Election In Seven States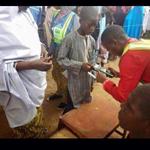 by Musa Abdullahi
The Peoples Democratic Party, PDP, has called on the Independent National Electoral Commission, INEC, to cancel presidential and National Assembly elections in seven states of the federation.
According to the party, the election results in the states have to be cancelled in the seven States because of what it called alleged electoral malpractices.
This call was made by the Deputy National Chairman of the PDP, Prince Uche Secondus at a media briefing in Abuja.
He listed the seven states as Kano, Jigawa, Kaduna, Gombe, Bauchi, Katsina and Kogi States.
Secondus alleged that in the seven states, under-age people were allowed to vote in clear contravention of the Electoral Act, adding that voting also took place late in the night in the affected states.
"In Kano and some of these states in the North, majority of voters were under-aged. Voting also took place in the night and you know that in the night, rigging can take place. We have compiled our reports from Kano state chapter", he said.
The PDP deputy chairman further declared that the conducts of the election in the affected states were characterized by underage voting, mid-night voting,voting to rig and insurgency attacks on voters in connivance with the officials of INEC.