"Nigeria Is Greater Than Any Individual" Fayose Congratulates Buhari, Calls For Calm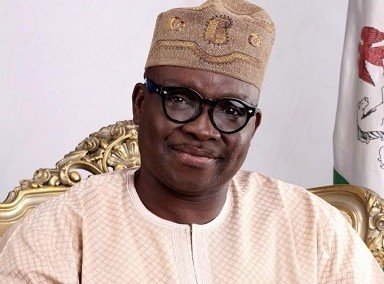 Estimated Reading Time: <1
by Musa Abdullahi
Ayo Fayose, governor of Ekiti state and one of the arrowheads of President Goodluck Jonathan's presidential campaign, has congratulated Muhammadu Buhari, describing the outcome as the will of God.
Fayose famously raised health concerns over Buhari and engaged in an acrimonious media campaign against the retired general. With results of the presidential election showing Buhari taking an unassailable lead on Tuesday afternoon, Fayose issued a statement, saying "the election result is the will of God and Nigerians , and all lovers of peace, progress and development of Nigeria must accept it".
The governor said the election results should not been seen as victory or loss for any political party, adding: "To me, Nigerians and democracy won." Fayose said: "I salute Nigerians, especially the great people of Ekiti state. "I salute President Jonathan for laying the most solid foundation for democracy in Nigeria. And I salute Major General Buhari for being a resilience and dogged fighter.
"I urge Nigerians, irrespective of their ethnic, religious and political affiliation to respect the outcome of the election in the interest of peace, progress and development of the country.
"Nigeria as a country is greater than any individual or group and it is my plea that no one should do anything to rock the boat of peace in the country."