'APC Still In Coma Over Ekiti 16 – 0 Defeat ' Fayose Boasts Of Winning The Polls, Talks On Cpt Sagir Koli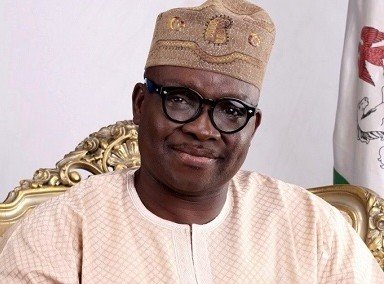 Estimated Reading Time: <1
by Deji Abiodun
Ekiti State Governor, Mr Ayodele Fayose has said that the All Progressives Congress (APC) will be in coma for at least four years over the 16 – 0 defeat it suffered in the June 21, 2014 Ekiti State governorship election.
The governor, who described the APC Spokesperson, Lai Mohammed's allegation that the Peoples Democratic Party (PDP) was planning to use
what he called "modified Ekiti rigging strategy" to rig the Saturday presidential election, said; "In the minds of Lai Mohammed and his APC
jesters, an election they lost so glaring was rigged, but Ekiti people who voted overwhelmingly for the PDP know that the election was won fair and square."
Speaking through his Special Assistant on Public Communications and New Media, Lere Olayinka, Governor Fayose said "it was obvious that
the APC and its gullible supporters were highly traumatised by the Ekiti humiliating defeat and no matter how hard they tried, they have
not been able to wake up to face the reality of a total rejection by Ekiti people."
The governor advised the party to prepare for another electoral woe on Saturday, saying; "No matter how loud their lamentation is, forces of
deceit and falsehood which the APC represents will never take over Nigeria."
Governor Fayose said; "From stomach infrastructure to photochromic rigging and now military rigging, it is obvious that the APC people
won't get revived from their state of electoral coma until 2019.
"Up till today, they are yet to tell Nigerians how the audio and video clip they are parading made APC leaders like Senator Femi Ojudu,
former Deputy Governor, Prof Modupe Adelabu, Hon Bimbo Daramola and others to lose their polling units.
"They are yet to tell Nigerians why they did not present the so-called rigging evidence at the tribunal.
"Most importantly, they are yet to explain why the so-called Captain Sagir Koli took the audio and video recording to Senator Bola Tinubu
in Lagos, instead of the Military authority.
"Or isn't that a pointer to the fact that the Army Captain (if he exists) had a working relationship with the APC leader prior to the election on which he must have been paid heavily?"
Warning the APC on the dangers of destroying major institutions that refused to be corrupted by the party, Governor Fayose said "only a
bastard will recruit outsiders to destroy his father's house that he intends to occupy."