Nigeriam Army Begins Scholarship Payments To Children Of 'Fallen Heroes'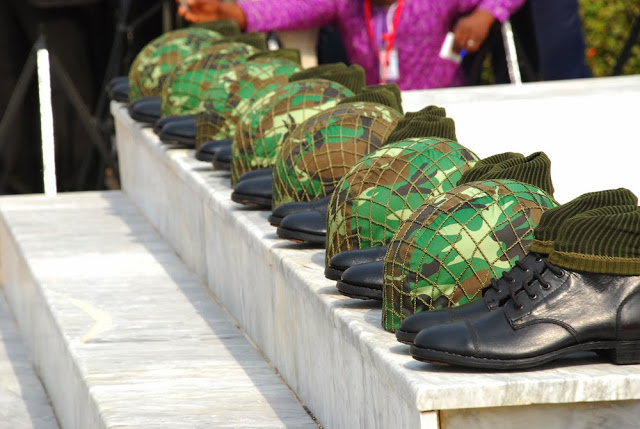 By Chris Nomjov
Children and dependants of deceased military officers, who were slain while in active service have started receiving payment of scholarship entitlement from the Nigerian Army, Acting Director of Army Public Relations, Colonel Sani Kukasheka Usman has disclosed.
The payment which is based on approved criteria for sponsorship of eligible children of deceased personnel by the Nigerian Army started in February 2015, is scheduled for completion at the end of March 2015 and is being administered to beneficiaries grouped into 20 batches of 50 each.
Speaking during the monthly press briefing, Colonel Sani commended recent spate of successes by the military against boko haram terrorists and said it was "hinged on troops' discipline, patriotism and professionalism.
"In this regard, I wish to inform you that our troops have in the last couple of weeks recaptured several towns and localities previously under siege of Boko Haram Terrorists in Adamawa, Borno and Yobe States.
He noted that the current effort has "progressively pre-empted, dislocated and disrupted the terrorists' activities thereby denying them freedom of action and degrading their capacity to cause mayhem in vulnerable communities.  The Nigerian Army has sworn that never again will it allow any group of terrorists' covet an inch of the nation's territory."
The Director of Army Public Relations also used the opportunity to once again clarify the involvement of foreign personalities in Nigeria's war against terrorism saying.
He said "In its bid to continually increase capacity, the Nigerian Army has continued to acquire new equipment to prosecute the ongoing campaign against the Boko Haram Terrorists and other criminal elements.  Troops are now being trained locally and overseas in the handling of this equipment and to increase capacity.
"In some cases, these training have been conducted in-theatre by foreign instructors.  I believe this is what has given rise to the false report about mercenaries in the North East. Furthermore,   pre–induction training of troops in some selected military training institutions is also ongoing after which troops will be deployed to the theatre of operations.
"In addition, seminars and workshops on modern operations planning for officers and soldiers at Division and Brigade levels as well as subscription on courses particularly on Improvised Explosive Devices and Counter Terrorism training are ongoing.  All these are geared towards ensuring that troops are efficient and effective in discharging their assigned roles in furtherance of NA's fulfilment of its constitutional mandate."
Sani gave the assurance that adequate provision has been made to take care of personnel who are wounded in line of battle.
According to him, "our troops in the theatre of operations in the North East have continued to enjoy adequate medical care.  For the avoidance of doubt, the Nigerian Army casualty evacuation procedure starts from the collection point within the unit where casualty receive first aid from their comrades and where necessary casualties are then moved to the Medical Reception Station (MRS) and Divisional Hospitals for further treatment.
"Exceptional cases are however referred and evacuated by air to Reference Hospitals. In case the Reference Hospital cannot manage the injury, such officer/soldier is evacuated abroad where adequate medical treatment will be administered.
"So far, a total of 19 officers and soldiers have been successfully treated abroad. For effective monitoring of wounded soldiers evacuated to 44 Nigerian Army Reference Hospital Kaduna, the  COAS has directed the Chief of Administration (Army) to visit the hospital fortnightly in order to ensure adequate medical  care/treatment  is given to the  wounded officers/soldiers on admission."