Two Killed In Fresh APC And PDP Clash In Rivers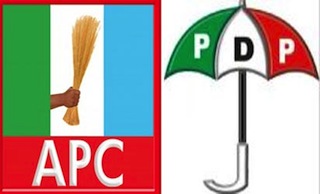 By Chris Nomjov
Supporters loyal to the Peoples Democratic Party (PDP) and All Progressives Congress. (APC) in the Ogba/Egbema/Ndoni Local Government Area of Rivers State, clashed on Tuesday, and two people were shot dead.
The squabble, which took place in Omoku, was said to be motivated by a reprisal after an initial violent clash took place in Okwuzi community within the area.
One of the deceased, according to a source, was a relative of the Commissioner for Power, Mr. Augustine Nwokocha, whose house was touched in the violence.
Apart from Nwokocha's house, some other buildings were also set ablaze as members of the PDP and APC tore at each other amidst sporadic shooting that began at about 8am.
The fight between the two parties in Okwuzi on Monday did not claim any life within the community, but two persons reportedly lost their lives in Omoku.
Ogba/Egbema/Ndoni is the local government area of the Rivers State Chairman of the PDP, Mr. Felix Obuah, while Nwokocha is the leader of the APC in the area.
An eyewitness said the incident had caused confusion in the area as residents, traders and passers-by took to their heels to avoid being hit by stray bullets.
Confirming the incident, the state Police Public Relations Officer, Mr. Ahmad Mohammad, told newsmen that it was a clash between two political parties in the state. Mohammad also confirmed that two persons were killed during the clash.
He said, "The skirmishes in the two communities in Onne local government area, and which started in Okwuzi yesterday (Monday), was as a result of a clash between supporters of two political parties in the state.
"I can confirm to you that two persons were killed during a reprisal, as a result of the spillover of the clash, in Omoku this morning (Tuesday) but there was no reported case of house burning.
Efforts made to reach the State Commissioner for Power, Mr. Augustine Nwokocha, to react to the incident at Omoku and how he was affected was futile, as he could not be reached on the phone.