"Be Impartial And Unobtrusive" -Jega Lays Ground Rules For Election Observers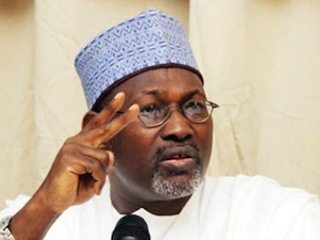 Estimated Reading Time: <1
By Chris Nomjov
Chairman of the Independent National Electoral Commission, Prof. Attahiru Jega, has stated that only INEC is mandated by the Constitution to monitor elections. Jega said this while addressing election observers in Abuja on Thursday. He also said INEC had distributed 81 per cent of Permanent Voter Cards.
He said an election monitor is part of the administration of the election while an observer has no oversight function. He, therefore, warned observers to understand electoral laws properly before going to the field.
He said, "An election monitor is an integral part of the election management structure and has a role in the administration of the election. In Nigeria, only INEC and its duly authorised personnel are empowered to monitor elections. An observer on the other hand does not have any role in the administration of the election nor any control or oversight functions.
"An election monitor exercises some level of lawful authority over the conduct of elections as well as over officials involved; an observer has no such powers. In Nigeria, a monitor must be duly authorised personnel of the INEC; an observer is independent and reports only to his or her organisation.
"A monitor can issue instructions and take decisions on behalf of INEC and to that extent would ordinarily possess a greater technical knowledge of the election process than an observer. To enable them fulfil their functions effectively, INEC is responsible for training election monitors on election administration. The training of election observers is the responsibility of the organisations that deploy them.
"The roles, powers and functions of monitors are created and regulated and the authority so exercised is clearly spelt out. It is important to clarify these because observers in the past sometimes overreach the limits of our conception of observation, which often results in tension and disagreements."
Jega said the last six weeks had given INEC the opportunity to put its house in order and expected things to go smoothly on election day.
The INEC boss urged the observers to ensure that their reports are based on evidence and not hearsay
Jega said, "In their conduct, observers are expected to declare any conflict of interest, be impartial and unobtrusive, ensure that their reports and conclusions are evidence-based, eschew prejudgment of the process, always carry proper identification, be careful about comments in the media, be prudent in receiving gifts and favours and avoid involvement in disputes."