Agatu Genocide: Fulani Herdsmen Are Confessed Jihadists – Ogbeh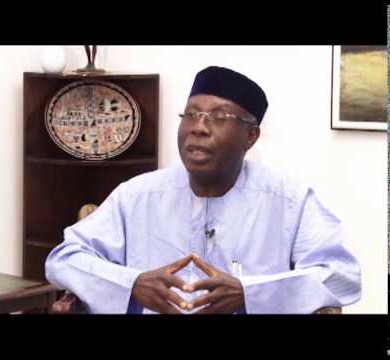 Estimated Reading Time: <1
By Chris Nomjov
Former National Chairman of the People's Democratic Party and current chieftain of the All Progressives Congress (APC), Chief Audu Ogbeh has alerted the country about the frequent attacks and killings of the people of Agatu in Benue state by Fulani herdsmen, whom he alleged, claimed to Jihadists on a mission.
Addressing journalists on Tuesday at the APC National headquarters in Abuja, Ogbeh said what is of major concern is the fact that the natives who ran to the security agents for help and protection from the rampaging attackers, were turned down.
Reacting to the incident, which took place at Agatu Local Government Area of Benue State, where dozens, mainly women and children were killed in cold blood by suspected herdsmen; Ogbeh warned that the people may be forced to take up arms to protect themselves if security agencies fail to leave up to expectation.
He said some of the herdsmen attackers who were apprehended do not seem to be Nigerians as they do not speak any of the Nigerian languages, adding that when interrogated, they confessed that they were  mercenaries recruited to come and kill in name of Jihad.
"People have tried to resist them on their own but they always come with very heavy weapons, AK -47 and nobody really knows the source. Once many of them were caught and some of them are Mauritanians and others who came into Nigeria speaking languages other than Nigerian. They speak neither Fufuldei nor Hausa but they were among the attackers. One of them said they were told that there was a Jihad and that they should come in and kill," he said.
Speaking on the likely motive of the herdsmen's  attacks, Ogbeh said: " We learnt that the Fulani herdsmen said they are looking for grazing lands and the idea may be to drive people away so that they can have access to fertile lands good for agriculture.
"Now, farmers can no longer farm, they have been dislodged so we have tried to raise money and put them in camps. So far there have been not much response from any of the government agencies.
"This is very strange indeed. The government security agencies did not responded adequately to the people's desperate calls for protection against the invading attackers . People ran to the security agencies for protection and they were told it is their business.
"I think it is the responsibility of the government to protect the people otherwise they are inviting us to take up arms and fight to protect themselves and I think it is unnecessary as we do not want to build an army of our own but if the  defenseless people are to be attacked and slaughtered ceaselessly, then we are in serious trouble.
The APC chieftain expressed his displeasure at the endless attacks on the people of Agatu in Benue state by the Fulani herdsmen who keep coming from time to time.
"Last Sunday about 80 people got killed mostly women and children going to church and it does seem that the security agencies have been able to do much. We do not know what to do next but I think it is getting really out of hand.
"This happens almost every three months and the Federal Government does not respond much. We heard that even when the people tried to get to some security agents, they were told it is not their business. We hope that this is a wrong report but it is getting really very troublesome," he said.