"Beyond The Elections In Benue"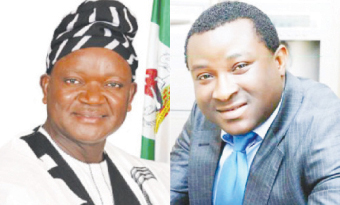 Estimated Reading Time: <1
By Chris Nomjov
Your Excellency, I congratulate you and welcome you to the Government House, Makurdi. Sir, please before you read further, I would like to clearly state that, this piece is not an attempt to replicate, in exactitude, the amazing analysis put forward by the former, CBN Governor, Charles Soludo; some weeks ago.
However, the will to draw up such a writeup was, in no small measure, inspired by Soludo's analysis and hence, almost shares the same title. Also, be rest assured, that this won't be as figurative and lengthy, as that of th former CBN governor's, not for lack of subscription to the facts in his analysis, but for an apparent lack of such lucid financial knowledge, yet. I do ask, that you read further, with such considerations, at the back of your mind.
It is no longer news that the elections were postponed for six week. What then seemed like an age is just 21 days away. Every tick of the clock, brings the elections closer to us, than they were. The various political parties and propaganda machineries have been and are still, rooting for their candidates. For the curious case of my dear Benue state; the governorship office has never been this contentious.
The quest for Government House, Makurdi is delicately poised. The two major political parties, at the national level, are duely represented, and in like contention, for that seat, in the state. Only few cynics, like myself, are yet to decide where, to pledge their thumb allegiance(s), come April 11th, 2015. Blame my indecision on distrust and dilemma of trust and you won't be far away from the truth.
Between the leading contenders, former Speaker of the State Assembly, Terhemen Tarzoor and erstwhile Minister of state for Trade and Investment, Samuel Ortom; my mind is yet to settle for one. This is not the result of lack of leadership qualities or potential for greatness in any of them; just a product of certain highly, personal standards. But, let me not digress, that's an issue, I would gladly discuss with any of their knowledgeable and faithful fans, someday. My intent, is to present, an alternative hypothetical situation of the State, post May 29th, when either of Ortom or Tarzoor, will be declared the governor. No disrespect to other parties and their candidates, but current polemics favour these two and their parties, at present.
After the sweet savours of that swearing-in wine settles; the expectations of the Benue electorate would stair, with probing eyes. Like, every other erudite Nigerian, the Benue man expects that you, Your Excellency would proceed to give his issue, utmost priority on your project for the state. I have outlined a few issues, which I feel would interest, the emerging governor and I would gladly love that, whoever gets the peoples mandate, looks at these, as – Benue's Bucket List.
The dilly-dally in payments of salaries in the state, had long been with us, before the current harsh economic climes. It has become stale news now, that the salaries of civil servants in Benue, have not being paid for some months. When they have been paid, in exceptional cases, these figures are huge skeletons from the take-home, the workers have all come to know. This became the hallmark of the last days of the previous government (assuming this is post May 29th, 2015). Not entirely a fault of the then government, but this is where the state finds itself.
Months of salaries' arrears besiege the state service and monetary motivations to work, are at an all time low. These civil servants, would look to you, as the Messiah, that has come to save their world, from collapse. The One sent to spare them the shame of long overdue debts, that has made their debtors, unwanted visitors and stalled many projected ventures. This would be an arduous task, considering the falling price of petrol in the international market and consequent austerity measures, proposed by the Federal government. Save for an upturn in fortunes of oil, in the international market; the slim Federal allocation, in the preceding months, would become a 'kwashiokor', at the very least.
This is the reality, that would welcome you to the Government House, Makurdi. Your Excellency, to scale through this, you would need, an excellent economic team, that would not only find a way to navigate the state through this storm, but would steer your tenure through, possible harsher economic times. I heard that the state government recently contemplated a 200 million Naira loan to offset the salaries.
This is laudable, but it only adds to the financial burden on the Benue, you'll inherit, Sir. My thoughts on the necessary of such a debt, at this time of transition and financially frugal times, is a topic for another day. I am not a prophet of doom, but I more than wish, that we prepare our umbrella, before the rains become heavy. I do hope, like other Nigerians, that the economic climes that lie ahead, would be more favourable and better, than we've ever seen, as a nation and as a state.
The issue of an efficient economic team, brings me to the next point, which is the economy of the state. Considering the flirting and sadly, fleeting price of oil, in the international market, I sincerely think, it's time the country, exploited her agro potentials, even more. The benefits that would accrue from the sector, if given half the attention accorded oil; can only be imagined. What better state, to herald this agricultural revolution, than my dear Benue.
Benue state, prides herself, as the 'Food Basket of the Nation', with arable lands that accentuate her agrarian potential. Her yields in yam, cassava, and fruits such as mangoes, oranges and the likes: compare to the very best on the African continent. One farming season upon another, farmers in Zaki Biam have have been responsible for the pounded yam morsels that accompany pork meat grills, that settle in many stomachs in the state. These farmers could do with extra push, to enable them export their yields to other states of the Federation and even beyond. Yes! Beyond the shores of this country, processed yam flour can still be exported from Benue state to other countries.
Need I mention the amazing potentials that abound in the fruits processing sector, in the state. Mangoes and oranges harvested in Benue, have found their way to juice factories, outside the state, through other means. Your Excellency, some, now stale, fruit processing plants were set up in the state, awhile back, can we work towards making them efficient and effective. I dream of attending an event in Benue, where drinks served, would be fruit juices, produced and processed in Benue. Where I would sip that drink and think that, the lady along Yandev road, is responsible for the orange juice, streaming down my throat. This can be possible, Sir, with your team's foresight, proper planning and efficient execution.
The effective execution of any planned programme hinges on the competence of the planners, as much as it does on the system, operational in a place. The competence of our educational system begs for serious questions. I log onto Facebook group "Benue Family" on a daily basis and certain grammatical missiles there, almost rip apart my delectable digital device. This is not meant to spite anyone, but to point out the quality of pupils and students, that our schools have churned out. On a personal note, as much I commend the work put in me, by my lecturers at Benue State University; I daresay, that the output, that is me, has more to do with the basic education entrenched within.
The sacrosanct role of basic education, cannot be over stressed. Basic education is the best foundation any child can have. Through the formative years of a child, his first encounter with education, defines what he learns and applies in life. From my biased analysis of the posts of my brothers on that Facebook wall; there is an apparent deficiency in the basic education obtained, where certain grammatical rules and tense principles were neglected or not properly, instilled. I repeat, this is not meant to spite anyone, but to prod His Excellency, towards the avoidable decay, that our basic education system, is headed towards, if a drastic action is delayed.
The painful nine-months primary school strike experience ced last year, has left most poor parents and pupils, very many steps back, in the pursuit of basic education. Even certain tertiary institutions in the state, have been under lock and key, for the best part of several months and recently just resumed back. Sir, this is not to dwell on the challenges of your predecessor, but a time to look forward. These pupils and their older siblings expect to not just get back to school, but silently, hope that you'll not make them, experience such unexpected nightmare, that would delay their sweet dreams of a bright future, again. If our educational system can churn out, competent graduates, with impeccable knowledge, it would serve to benefit the state.
Having obtained the necessary education, be it formal or informal, there is a need to secure gainful employment or set up a means of livelihood. The height of unemployment in the land, is alarming. Sir, I'm sure from the streams of youths, who scrambled for those Naira notes, you were sharing during those campaign trails, it was apparent, the alarming are of idle youths in the land. More skills acquisition programmes and start up funding is necessary, to drive off some young men from consistent idle talk, under beer drinking huts.
Some years ago, a certain Andrew Ayabam, as them Chairman of the State Internal Revenue Service, thought it wise, to enroll a good amount of fresh graduates into a state parastatal then. I do hope, it is feasible for you, to borrow a leaf from such thinking and rid the society of idle youths, who are prey to social vices.
Finally, for this chapter, Sir, I would gladly advise that you stretch a hand of fellowship to your opponent(s) at the polls and bring him/ her (them) into your government; if they share your vision and are willing to work. This is the call for a Benue that is above every individual, political party interest or personal vendetta. Even if such person, is pushing for the 'customary' tribunal for restoration of mandate; bring him or her in. Their competence might come handy in moments of 'administrative block'. I do hope, that the next time, another chapter of this series comes, I would have been too busy in an office to type such incoherent piece, but more knowledgeable for less errors and my beautiful Benue, would have been better served.
________________________________
Article written by Chris Nomjov,
Twitter: @ChrisNomjov , in-house reporter with NewsWireNGR in Abuja
Disclaimer
It is the policy of NewsWireNGR not to endorse or oppose any opinion expressed by a User or Content provided by a User, Contributor, or other independent party.
Opinion pieces and contributions are the opinions of the writers only and do not represent the opinions of NewsWireNGR