Nigerian Army Tries General, 22 Others Today, Over Bama Barracks Invasion By Boko Haram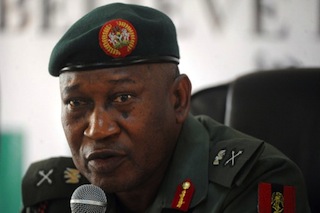 By Chris Nomjov
Nigerian military authorities will, today (Monday) commence the trial of a Brigadier General, four colonels, seven Lt. Cols, and 10 other officers of the Nigerian Army in Lagos. The soldiers are being tried for alleged negligence and complicity in the invasion of the 21 Artillery Brigade, Bama, by Boko Haram insurgents on September 2, 2014.
The Lagos trial promises to be the biggest of the recent military court martial in the country. For the first time, 23 very senior officers of the service would be arraigned for offences bordering on the counter-insurgency operations in the North-East zone.
It was gathered that the 23 Army officers would be prosecuted for various military offences under the 81 Division, GCM, Lagos, scheduled for inauguration at the Ikeja Cantonment today. The GCM will be presided over by Maj. Gen. S.D Aliyu.
Reports reveal that the officers were being accused of cowardly behaviour, failure to perform military duty, negligent performance of military duties and other offences relating to service property, among others. Also, it was learnt that one of the offences relating to service property was central to the setting up of the GCM.
A military source, who confided in our correspondent, explained that "the offence of cowardly behaviour attracts the death penalty while other offences attract nothing less than two years imprisonment."
Leadership of the military had commenced investigations into the Boko Haram invasion of the 21 Artillery Brigade, Bama, shortly after the barracks fell to the insurgents, who were said to have carted away large quantity of arms and ammunition.
The military leaders were said to be of the view that the insurgents did not encounter the expected degree of resistance before overrunning the barracks.
Prior to the invasion of the barracks, the military authorities had taken the decision to relocate the 21 Armoured Brigade from Maiduguri to Bama because of the proximity of the latter to the theatre of operation.
Senior military personnel had said last year that the military strategists who took the decision were of the view that the movement of the Brigade would create room for a more effective prosecution of the campaign against the insurgents.
Our correspondent could not get the Director of Defence Information, Maj. Gen. Chris Olukolade, to comment on the trial opening in Lagos today as the calls to his mobile telephone line did not connect.