Fayose Faults Card Readers' Test, Calls It A Fraud That Will Mar Elections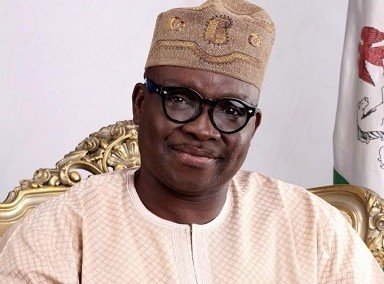 Estimated Reading Time: <1
By Chris Nomjov
The Governor of Ekiti State, Mr Ayodele Fayose has described the card reader machines the Independent National Electoral Commission (INEC) intends to use to accredit voters during the March 28 and April 14 elections as a fraud capable of scuttling the elections.
The governor, who expressed doubt over the forthrightness of the INEC chairman, Prof Attahiru Jega in handling the elections said; "Unless INEC has an agenda that is different from conduct of free, fair and credible elections, use of the card readers should be suspended for future elections so as to enable proper test running of the technology.
Speaking through his Special Assistant on Public Communications and New Media, Lere Olayinka, Governor Fayose, who said he was not against the use of any technology to ensure credible elections, added that the flaws recorded during the last Saturday test run exercise were too fundamental to be ignored. He pointed our that Jega was not being truthful on INEC preparedness for the election, saying; "Jega told us before February 14 that INEC was ready.

He heaped the blame for postponement of the elections on security. "However, the same INEC that Jega said was ready to conduct elections on Febuary 14 was testing card readers on March 7, meaning that all the flaws that characterised the Saturday exercise would have been witnessed on February 14. Wouldn't that have been disastrous?"

The governor, who said no righr thinking person will want to experiment with major elections, added that; "INEC ought to have tested the card reader technology with at least, a bye-election before using it for the general elections." He said; "From the Saturday exercise, it can be assumed that it will take an average of one minute for a card to be read. Given that accreditation of voters will start at 9am and end at 12noon, the card reader will be able to read 180 voters cards in three hours. What will then happen in polling units with 500 voters or more?"

Speaking further, Governor Fayose said the machines failed to recognise Permanent Voter Cards (PVCs) in most of the states where the Saturday test run took place while in some, the machines' batteries lasted for less than three hours.

"For instance, in Ebonyi State, we were told that Card Readers didn't recognize the fingerprints of voters who registered for the 2011 general elections. Even the State Resident Electoral Commissioner (REC), Dr. Lawrence Azubuike, acknowledged that the authentication process by the Card Reader was very poor.

"In Taraba State, many voters complained that the Card Readers could not identify their fingerprints. "Most importantly, it has been discovered that the card readers can be pre-programmed to reject PVCs. The card readers can also be pre-loaded, even without using the right PVCs.

"Therefore, Jega and his INEC must have to further convince Nigerians on their real intention for trying to use a technology that is yet to be tested and adjudged foolproof for a major exercise like the president election that is capable or making or marring Nigeria."