Openly Partisan Oba Of Lagos, Rilwanu Akiolu Says He Is Yet To Endorse A Presidential Candidate, Denies Buhari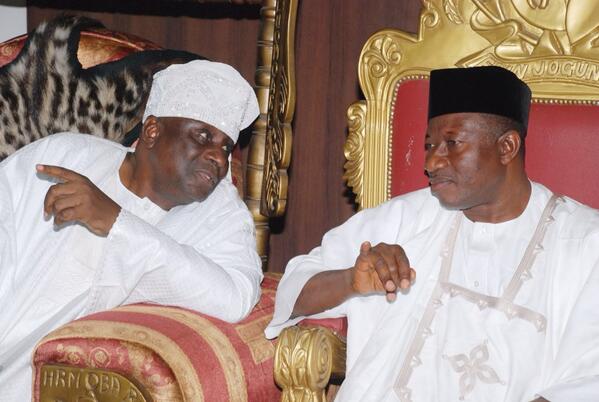 Estimated Reading Time: <1
by Deji Abiodun
Lagos monarch, Oba Rilwanu Akiolu, on Thursday said he has not endorsed any presidential candidate ahead of next month's election, stating that God will give Nigeria the best among the lot.
NewsWireNGR recalls that Oba Akiolu was  first  to endorse the All Progressives congress Governorship Candidate in Lagos state, Akinwumi Ambode months before the party's primaries.
Akiolu during an interview at the Naval Dockyard, Victoria Island, Lagos, while attending the commissioning of four Nigerian Navy ships by President Goodluck Jonathan reacted to speculations that he has endorsed the APC presidential candidate, Gen. Muhammadu Buhari
He described the reports  as false.
"Who gave you that rumour? Who said so? Some of the things they are writing, like that former Minister Obanikoro, I went to his aged mother that they should warn him seriously. For the presidency, I support the best person.
"If I want to do something I do not pretend, God almighty Allah will give the presidency to the people Nigerians want to do the best for this country.
Akiolu used the opportunity to reiterate his support for the candidature of APC's Akinwunmi Ambode for Lagos governor, adding that he acted on God's wisdom in picking Ambode.
"I have my reason for saying it and I do not hide it. I acted on God's wisdom and picked Akinwunmi Ambode and by the grace of God, he will be the governor of this state."
The monarch took a swipe at former President Olusegun Obasanjo and former Minister of State for Defence, Musiliu Obanikoro, accusing the former of crying foul after all his evil deeds.
He commended the President for the new acquisitions for the navy, adding "the very energy which God gave them to do this, they should do many other things for the country so that all will be well with us."
Akiolu, who said the Dockyard, a large area of land was collected from the noble family in the colonial days without compensation, urged the federal government to do something in order to solve the inherited problem.
On election postponement, he said the reason given by the Independent National Electoral Commission (INEC) was acceptable, adding that he was hopeful the elections will hold come March 28 and April 11.