55 Nigerians Reportedly Killed Nationwide In Pre-Election Violence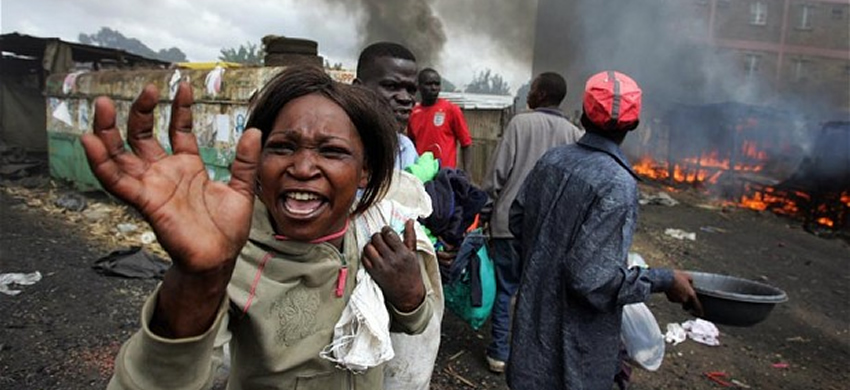 Ahead of the 2015 general elections, 55 persons have been killed in political violence across 22 states of the federation, according to a document seen by online news portal TheCable.
There are fears that there may be underreporting of the casualty figures, with the killings taking place in all of Nigeria's six geo-political zones.
Lagos, Kaduna and Rivers are rated as the most violence-prone in this election season, according to projections in the report by the National Human Rights Commission (NHRC) to be released on Saturday.
Over 700 were killed in southern Kaduna alone in the 2011 election violence — out of the official death toll of 943, for which nobody was put on trial.
The NHRC advisory will come as scant consolation to security agencies which are already battling insurgency in the north-east, chronic inter-communal and ethnic conflict in the north-central, and militancy in the south-south.
The original dates of the elections were moved Saturday last week by the Independent National Electoral Commission (INEC) citing security concerns, reportedly prompted by the military which said it would not be able to partake in the security arrangements.
In the report, titled A Pre-Election Report and Advisory on Violence in Nigeria's 2015 General Elections, the human rights commission expressed concern over the "bellicose rhetoric, a rise in hate speech, and a worrisome footprint of election-related violence".
Over a 50-day period starting from last December, NHRC said it received reports of more than 60 separate incidents of election-related violence from 22 states "spread across the six geo-political zones of Nigeria".
An unspecified number of people were also injured in the incidents. In 2015, the commission said it has so far received 10 serious complaints for investigation or adjudication from political parties, NGOs, legal practitioners or private individuals — "all alleging election-related violence or hate speech".
NHRC reminded the government and political leaders of their responsibilities to prevent election violence as they could be brought to trial under international laws.
It also reminded INEC, security agencies, the media and the clergy on their responsibilities. Chidi Odinkalu is the chairman of the National Human Rights Commission