Nigeria's President Says Boko Haram Plans To Attack The Whole Of Nigeria, Anxiety As INEC Decides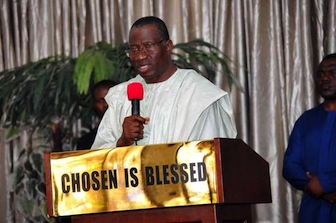 Estimated Reading Time: <1
President Goodluck Jonathan on Saturday said various attacks by Boko Haram in Abuja were planned to extend to parts of the country with the intention of bringing down the nation.
He stated this when he attended the revival service of the Lord's Chosen Charismatic Revival Movement at its headquarters in Ijesha, Lagos. "The idea of the group was to start from the centre of the country and then move to bring the whole country down," Jonathan said.
He listed the United Nation's building, Police Headquarters, Army barracks market and Nyanya Motor Park as some of the places the terrorist organisation attacked in the federal capital.
He, however, said that the efforts of the Federal Government had curtailed the spread of the attacks to other parts of the country, except in Borno, Adamawa and Yobe states.
The president said that insurgency and terrorism were global phenomena that were not peculiar to Nigeria, but added that with international collaboration, the Armed Forces would defeat the extremists. "We are working hard as a government and with your cooperation, we will rout terrorism.
"We will work harder to protect all Nigerians. We will improve the economy so that people will have jobs so that these distractions about terror will end," he said.
The Nigerian government is moving to shift the dates earlier slated for the conduct of the elections. With Boko Haram still holding swaths of territory in the North East, millions could be disenfranchised which warranted the shifting of the polls, with the said official, who spoke anonymously stating that the official announcement of the postponement will be done by INEC later on Saturday, February 7, 2015.
Meanwhile, Nigerians are eagerly awaiting the announcement by the Independence National Electoral Commission (INEC) on whether the February election dates would still hold as scheduled or not.
INEC has held several meetings with stakeholders, Saturday, to brainstorm on the possible way out.
At the moment, a meeting between the chairman of INEC, Attahiru Jega and other electoral officers is underway in Abuja, after which Jega is expected to brief the Press on the decision reached by the electoral umpire