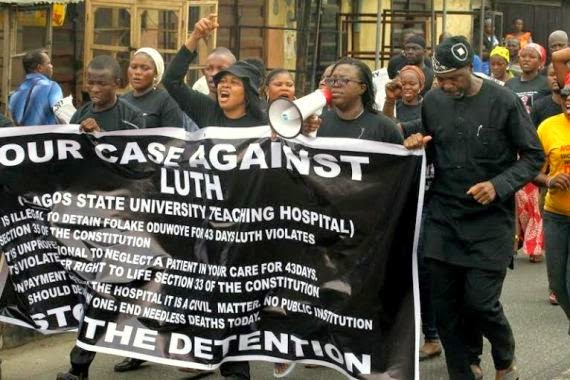 A scorned widower, his family members and youths in the Idi-Araba area of Lagos state took to the streets of Idi Araba, on the 29th of January, 2015,  to protest the death of one Mrs. Folake Oduyoye who reportedly died on Dec. 13th 2014 at the Lagos University Teaching Hospital, LUTH, after her husband could not offset her medical bill of N1.3million while she was admitted in the hospital for post delivery complications she developed after having a child at the hospital.
In his account of events, Late Mrs Oduyoye's husband, Mr. Oduyoye said she was transferred to LUTH following post delivery complications. He said after she was admitted into the hospital, she was treated and given a bill of N1m which he was able to offset through the help of relatives and associates from his wife's fashion trade. Mr Oduyoye said after his wife was officially discharged by the hospital, he was issued another bill of about N1.3million.
Mr Oduyoye said that he was able to raise N300,000 out of the bill and then had an agreement with management of LUTH to discharge her on the condition that he would provide a guarantor who would stand to ensure that he pays up the balance in a systematic manner and that the guarantor must be a staff of LUTH. He said his inability to provide a guarantor within their workforce made the hospital management detain his wife who in the process developed other illnesses with symptomatic cough. He said the hospital refused to treat his wife's new illness because of the unsettled bill.
"At this point they [hospital management] policed me everywhere, saying I might smuggle my wife out of the hospital. I slept beside her all 45 days in the hospital, watching other patients die on daily basis," he said.
Sadly his wife passed away in the hospital on 13th of December, 2014,
"She asked me if we would go home any time soon, since she was said to be discharged a month and half ago. But that was only the last five minutes into end for her, I didn't know. At about 2a.m on 13th of December, she finally dropped on my lap," he said.
One of the leaders of the protest and frontline human rights activist, Dr Joe Okei-Odumakin said this was a case of government corruption.
"This is neglect and a rip off. Where is the National Health Insurance Scheme and where are the billions earmarked for public healthcare?", Okei-Odumakin said.