#NotBeyondUs Junior Chamber Int'l Lagos, Marks World Cancer Day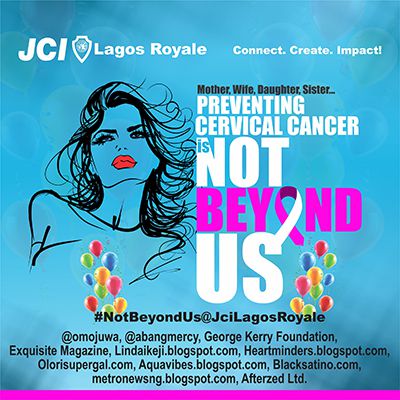 Estimated Reading Time: <1
World Cancer Day is marked every year on February 4 and Junior Chamber International, Lagos Royale (JCILR), its members, partners and the entire world can unite together in the fight against the global cancer epidemic. JCILR focuses on Cervical Cancer through its initiative tagged Royale Cervical Cancer Campaign (RCCC).
The theme for World Cancer Day 2015 is "Not Beyond Us" and JCILR joins the global campaign by stating that preventing Cervical Cancer is #NotBeyondUs@JCILagosRoyale.
World Cancer Day 2015 will be articulated around four key areas of focus:
Choosing healthy lives
Delivering early detection
Achieving treatment for all
Maximising quality of life
Here are some key facts as extracted from various partners who are joining the campaign globally:
"More than eight million people a year die from cancer of which more than 60% of those deaths occurred in low- and middle-income countries, the majority in the middle-income segment", says Professor Tezer Kutluk, President of the Union for International Cancer Control (UICC). "The absolute number of cancer cases in developing countries is set to rise dramatically because of population growth and ageing, so action must be taken now. Whilst the US$18 billion package is affordable for many countries, it's unrealistic to expect the world's poorest nations to contribute to this investment without international support," stresses Prof. Kutluk."
It is not beyond us to prevent premature deaths from cancer, so we simply cannot sit back and continue to let the global burden grow. On World Cancer Day 2015 we join Union for International Cancer Control (UICC) and others to demand that the international community unites to invest in improved cancer control interventions, particularly in low- and middle-income countries.
Please join us by using the ePoster below on social media platforms along with the hashtag #NotBeyondUs@JCILagosRoyale.