Facebook And Instagram Down Worldwide For An Hour After 'Hack'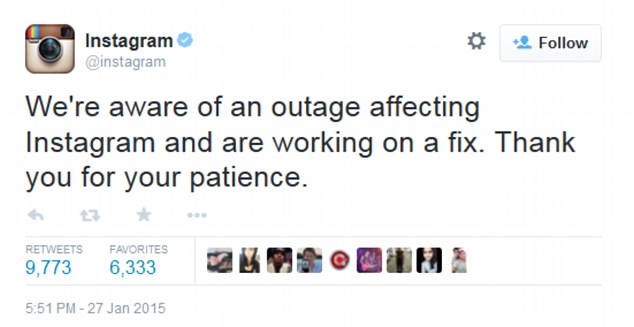 Estimated Reading Time: <1
Social media sites Facebook and Instagram were down worldwide for around an hour today . Hackers from the online group Lizard Squad have claimed responsibility for the attack, which took the two social media sites down at around 6am GMT.
For an hour the sites both appeared with error messages  world over, affecting the United States, Africa and Asia.
While it was down Facebook said they were 'aware' of trouble accessing Facebook and Instagram: 'We're working to get things back to normal as quickly as possible.'
An Instagram spokesman posted on Twitter: 'We're aware of an outage affecting Instagram and are working on a fix. Thank you for your patience.'
The Lizard Squad is a group of hackers that has caused havoc in the online world before, taking credit for attacks that took down the Sony PlayStation Network and Microsoft's Xbox Live network last.