Riots Between Ekiti State University Students And Micheal Otedola College Of Primary Education, Epe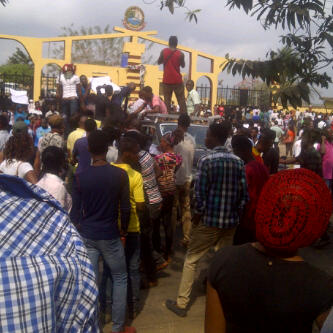 Riot has broken about between Ekiti State State University (EKSU) students and the management of Micheal Otedola College of Primary Education in Noforija in Epe Lagos State.
The rioting which has left some people injured is believed to have stemmed from a squable between the two institutions. According to an eye witness who sent in this report to social media site, Nairaland, if something is not done urgently, the riots could really get out of hand.
It will be recalled that the Management of Ekiti State University (EKSU) has accused the leadership of one of its affiliate colleges, Michael Otedola College of Primary Education (MOCPED), Epe of failure to present the results of students of the College to the Senate of EKSU for approval which would enable the affected students obtain certificates.
The University has also accused MOCPED of huge indebtedness to Ekiti State University spanning over several years. Speaking on the matter, the Deputy Director, Affiliate Colleges in EKSU, Dr. (Mrs.) F. M Osalusi explained that the Vice- Chancellor, Professor Patrick Oladipo Aina, had visited the institute in Epe, on debt recovery and the need for the authority to present the results of the students for Senate approval which had yielded no positive results up till today.
It was reported that the Management of EKSU strongly condemned the non-challant attitude of the Michael Otedola College of Primary Education on the huge indebtedness to EKSU and non-presentation of students result to EKSU Senate for approval.
According to one of the students " The management has been embezzling the school funds, our results are not released and in time, the just graduating students are not seeing any progress of going for service(NYSC), the provost has not been taking students' issue seriously. He is only interested in luxurious things. No facilities and stagnation has been the order of the day".
"So we made a peaceful protest in reaction to the publication on "The Nation news paper" that was published on Thursday confirmation that The management of MOCPED has not been serious concerning the issues of the affiliated EKSU degree students in their school"
"We are protesting so that governor Raji Fashola can hear and do something about it" Please we need help".