Bauchi Governor Isa Yuguda Accuses PDP Chairman & FCT Minister Of Staging On Jonathan's Convoy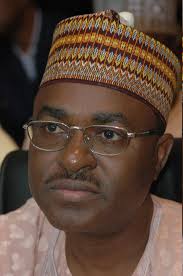 Estimated Reading Time: <1
Governor of Bauchi State ,Mallam Isa Yuguda has said that it was PDP members who attacked the campaign rally of President Jonathan (in Bauchi), not APC youth as alleged.
The governor, also a PDP member who spoke in hausa tells the BBC, that it was some Bauchi PDP stalwarts who are in power in Abuja that organized the attack by the youths.
Minister of FCT Bala Muhammed and PDP National Chairman, Ahmadu Mu'azu are among the PDP stalwarts from Bauchi (in Abuja) who are believed not to be working in concert with the governor though they are from the same party .
It was on Thursday that some youth launched attacks on President Goodluck Jonathan's convoy along some streets when president's convoy was on its way to the Emir of Bauchi's palace as well as at the venue of the presidential rally.
Here is the BBC Hausa report:
'Yan PDP ne suka kai hari a Bauchi – Yuguda
A Nijeriya gwamnan jihar Bauchi Malam Isa Yuguda, ya bayyana cewa 'yan jam'iyyarsu ta PDP ne suka kai hari kan taron yakin neman sake zaben shugaban kasar Goodluck Jonathan, amma ba 'yan jam'iyyar adawa ta APC ba.
A cewar gwamnan — wanda shi ma dan jam'iyyar PDP ne — wasu ne daga cikin manyan 'yan siyasa 'yan jam'iyyar ta PDP mai mulki 'yan asalin jihar ta Bauchi da ke Abuja, suka shirya tarzomar matasan.
Ministan Babban birnin tarayayya Bala Muhammad da shugaban jam'iyyar PDP na kasa Ahmadu Mu'azu dai na daga cikin kusoshin PDP 'yan jihar Bauchi da ake jin ba sa dasawa da gwamnan, duk da cewa jam'iyyarsu guda.
A ranar Alhamis ne wasu matasa suka kai farmaki kan taron gangamen na Shugaba Goodluck Jonathan a wasu tituna ciki har da lokacin da 'yan tawagar ke kan hanyarsu zuwa fadar sarkin Bauchi, da kuma a filin taron.