Opinion: Don't Blame General Obasanjo Over President Jonathan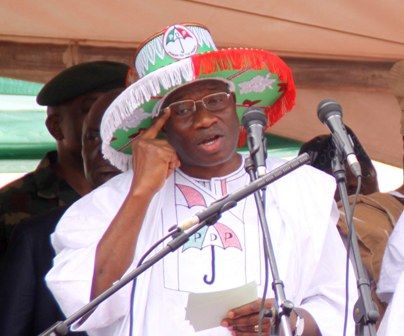 Estimated Reading Time: <1
Why blame General Obasanjo (OBJ) for his book launch inspite of the fact that there was a court order restraining him from doing so. If Nigerians want to be truthful and thoughtful, those that attended the ceremony are to be blamed.      The reason is simple: those that attended the book launch knew quite well that Nigeria is supposedly a democratic society under the rule of laws. Instead of OBJ's friends/relatives to carry him away from the street where he was dancing to the sound of music from a nearby store as a mad man, they all stood and watched him entertained the public as he has certainly developed dementia disorder. Furthermore, the attendants of OBJ party (book launch) knew that a reputable court of law had restrained OBJ, yet they encouraged him to prevaricate a court order with impunity. What an impetus for a man who recently occupied Aso Rock – Nigeria's seat of power and would flagrantly disobey a court order in a society with a three arm of governance – executive, judiciary and legislature. Does this same man deserve to be called a president or an army general? Be the judge.
            We are educated enough to know the impact of a bandwagon effect especially in a country like Nigeria where those in possession of stolen cash have loud and influential voices. It does not surprise anyone to know that the focus of OBJ's book launch is to bring down President Jonathan's (GEJ) reputation at all cost. After all, he is known for his do-or-die lifestyle of getting anything he wants. Do you know that in the days of OBJ in Aso Rock, EFCC would have picked up the PDP henchman who posed for photograph with top hierarchy APC opposition members including Buhari? But today nobody can dare ask "Baba" as he is fondly called for his inappropriate party actions because he has made himself the "bride" of electoral votes in Nigeria, a country that remains at an angle of 45 degrees – not standing upright as well as not falling flat. Only Almighty God knows for how long it would remain so.
            We should evaluate/analyze OBJ grievances against President GEJ. Thus, the media in Nigeria said that OBJ invited Pastor Adeboye and Bishop Oyedepo to attend a meeting he had with President GEJ at Otta, Ogun State in January 2015. The source said that "Obasanjo opened up to those present and the two clergy men he had invited to ask President GEJ whether he had been honest with him and those he had assured he would run for a single term, if they supported him to win the last election." At this juncture, it would be relevant for Nigerians to sit back and ask themselves one simple question. Does it mean that VP Jonathan in 2011, as a Nigerian from the South-South was not qualified to run for the office of the president in 2011 or the fraudulent Constitution limited people from a certain region of the country to a single term? Wait a moment. In the private quietness of these men of God invited to this kind of meeting, did they asked themselves what role they came to play in this meeting or they have reduced themselves to people that would answer to the beck-and-call of any dupe? Perhaps, OBJ thought that bringing men of God to the scene would vindicate him from his creator for all his atrocities against mankind. It amounts to total crap for OBJ to think that if President Jonathan had said in 2011 that he would stand by his Constitutional rights of running for his two terms, OBJ and his Northern cohorts would have stopped him because leadership in Nigeria belongs to North or West. Do Nigerians consider this fair and just to President Jonathan? However, the parents of President Jonathan are happy wherever they are that their son rose to the zenith of his career as president of Nigeria. At the same time they must be ashamed of their son for going to OBJ's house in Otta to beg him.
            It's such an irony that OBJ would berate President GEJ for running presidential campaign more than once. Here was a man (OBJ) who made himself an emperor in Aso Rock by holding the positions of Minister of petroleum and the President at the same time. OBJ did it in order to amass so much money from the nation's oil revenue which he squandered to unsuccessfully bribe Nigerians for a third term presidential campaign. Today the same OBJ is on the streets all over Nigeria crucifying GEJ and tarnishing GEJ image because he has the courage to exercise his Constitutional rights. You would think that if OBJ could invite men of God for such a stupid meeting, he OBJ would hold his Bible to his chest and swear before the clergy men that he did not swindle the nation with the billions he supposedly spent on power without any result. Or that his assets today are proceeds from his Otta farm business which was in huge debt with Union bank as of 1999. This writer knew this fact as a bank worker in Nigeria.
            The idiotic notion of North or West leadership of Nigeria made VP Jonathan looked like nobody before the world in the later months of late President Yar'Adua's regime. But for late Mrs Dora Akunyili who blew the whistle that 4 or 5 Northern cabals including Mrs Yar'Adua were running the affairs of Nigeria like their personal homes while VP Jonathan was kept in the cooler. Where was OBJ? Where were IBB, Buhari and many of the Northern elders whose voices we now hear every second these days when all the nonsenses were going on in Abuja? Would anyone say that what transpired then could happen in any part of the globe? Of course not but it happened in Nigeria because VP Jonathan comes from the South-South. There is certainly no reason that could be more than this hence OBJ with his face that is less ugly than his devilish heart can pounce on GEJ and dehumanize him.
            One fact is resoundingly clear: OBJ is known to have always played the script of the Northern agenda against anyone from the South. He did in 1979 when it was Chief Awolowo versus Alhaji Shagari and that was how Nigeria derailed when Alhaji Shagari was handed the mantle of leadership. Any serious minded person knows for sure that with what Chief Awolowo did in the West; given the chance in 1979 Nigeria could not have been what it is today. Instead, OBJ connived with the North and gave power to Alhaji Shagari. The consequences of being inept are what Nigerians are suffering until today. OBJ is on it again. This time, his mission is "anything but Jonathan" (ABJ). Be sure that OBJ would not have endorsed Fashola (the best in his party) as the APC flag bearer because he is not a Northerner.
            Under his watch, Buhari and his henchmen created Sharia law in the Northern States and from that base point they launched and anointed Boko Haram. The media quoted Buhari as having said that he would not attend the Council of States meeting but would attend Boko Haram meeting. Today the story has been twisted with lies as no one agrees to be the founder or financier of Boko Haram. Atiku, with a microphone in his hand in an open space in Abuja made it clear to the world that Nigeria would be ungovernable. True to it most Nigerians have lived under fear while others have been slaughtered or maimed since both Atiku and Buhari made their boast. To buttress this point, the same men behind the APC party have promised Nigerians again that if their party doesn't win the forth coming election, they (APC) would form a parallel government.
                  In a democratic dispensation, until that philosophy in Nigeria that holds some regions superior and others inferior is permanently abolished, Nigeria will not know peace.
______________________________________________________
Tosan Okotie
Lives in Texas, USA
Disclaimer
It is the policy of NewsWireNGR not to endorse or oppose any opinion expressed by a User or Content provided by a User, Contributor, or other independent party.
Opinion pieces and contributions are the opinions of the writers only and do not represent the opinions of NewsWireNGR.